Here's some news that's both interesting and gives me pause because on the one hand, Jordan Peele produced one of the best existential horror films of the year, and on the other hand, Spike Lee hasn't produced any outstanding or substantial work in years despite his iconic status. Nevertheless, these two are working on a thriller together that involves a topical subject, which is... the KKK.
Lee and Peele will share production duties on Black Klansman, a film that, according to The Hollywood Reporter, tells the true story of a Colorado-based detective named Ron Stallworth who fought injustice by posing as a Klansman, circa 1978. Stallworth applied for a KKK seat and ended up leading a chapter:
Stallworth, who is black, was able to gather all sorts of intelligence by pretending to be a white supremacist on the phone or via other forms of correspondence but sent a white fellow officer in his place for any in-person meetings. During his undercover work, Stallworth managed to sabotage several cross-burnings and other activities of the notorious hate group.
Yes, this sounds like a make-believe project straight from Dave Chappelle's aged playbook, but it is real and Lee is directing the film. The co-star of HBO's Ballers, John David Washington (son of Denzel), is reportedly in talks for the lead.
In a 2014 interview with Vice, the real-life Stallworth, who wrote a book about his past, recalled applying for KKK membership through a newspaper ad, telling Vice, "I used all the derogatory terms for the various races they like to use. And I said I wanted to do something about it, that I wanted—to use a popular term of the day—to take back our country from these people."
G/O Media may get a commission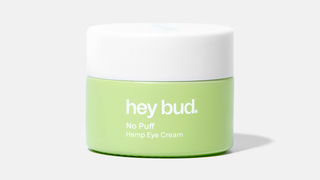 15% off
Hey Bud - No Puff Hemp Eye Cream
Stallworth said of his KKK experience, "There was no sympathy whatsoever. My only regret was that I couldn't reveal who I was and what I was doing to thoroughly embarrass them and show them what idiots they were. I had to maintain the secrecy of it. The pleasure I got is that I was making fools out of them and they didn't know they being made fools out of at the time it was happening."