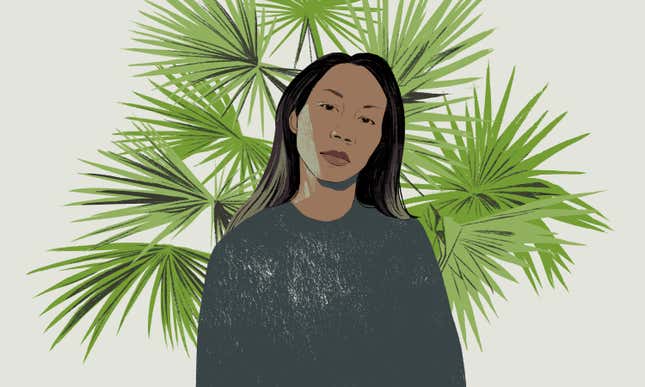 On hot Phnom Penh afternoons, the rapper Jessica "Lisha" Srin finds her shade and solace within the darkness of recording studios. In the booth, Lisha spits bars in Khmer with unapologetic attitude. Her verses are brash, pumping with a badass intensity inspired by her decade-long love affair with hip-hop. With the help of a record label called KlapYaHandz, Lisha is working to defy Cambodia's gender norms and promote the new Cambodia as progressive and cool with a lot of soul. For a country torn apart by genocide, it's a way to redefine national identity, and re-instill homeland pride. For Lisha, a woman from a country that nearly demands women be seen and not heard, it's an explicit means of expression and liberation.

When I spoke to Lisha, I was struck, immediately, by her voice; her English is flawless and her delivery confident with around-the-way flavor, the antithesis of the soft, high-pitched, baby-speak most Khmer women adopt to be "sopeup," or ladylike. But Lisha isn't pressed; she says she's much more interested in being a "bad bitch" than a passive Barbie. Born 36 years ago to a single mother, Lisha represents an evolving breed of Cambodian women whose broadened generational thinking—fueled largely by greater access to the internet and its modern images, and by increased tourism from the Western world—is sparking a shift. Hip-hop is omnipresent.
Khmer women can glimpse videos of a confident Nicki Minaj on YouTube, and on Friday nights in Cambodia's capital city, these women can party at any variety of dance clubs where the soundtrack is both Khmer and American hip-hop. Dance floors provide a space where the length of a woman's skirts isn't as fussed over as they are back in their villages. Here they can let their hair down and feel the music.  
"When I first heard hip-hop, I was like, 'Whoa, this isn't that typical, boring pop. This is real freedom of speech," said Lisha, whose first introduction to hip-hop came in 1999 via DJ Sope, the self-proclaimed Cambodian P. Diddy, who learned about hip-hop when he and his family fled the Khmer Rouge and sought refuge in California. When Sope returned to Phnom Penh in the early '90s, he brought hip-hop with him and started playing Run-DMC and Afrika Bambaataa on Cambodian radio. Listeners had never heard anything like it.
The genre is definitely a departure from the love-drunk ballads most Khmer pop artists produce, especially songs by women, whose singing is usually super-soaked in syrup. Lisha is much more moved by hip-hop's fiercely honest storytelling. "My life was like a rap song, you know? I'm from the ghetto. I've only seen my father three times. My mom, my little sister and me, we were just surviving," she remembered.
Lisha's music is beloved in Cambodia, and she performs monthly at music venues across Phnom Penh to eager audiences. Her combined YouTube views are in the 100 thousands with fan comments that declare: "[Lisha's] a strong Khmer woman representin'! Much respect!" She receives love, too, for soundtracks performed in national commercials pushing La Vie mineral water and Cellcard, Cambodia's top phone carrier. And her talent has even taken her to the TEDx stage and on a US tour as a OneBeat fellow, where she joined emerging musicians from around the world and created original work while developing a global network of civically engaged music initiatives.
Lisha, a divorced mother of three, raps about her struggle, but also about her hope. She's out to change the narrative for Cambodian women, whose lives are governed by a set of cultural expectations I learned firsthand while living in the country as a Peace Corps Volunteer. Take my host sister, Nita Sok, for example; at 22 years old she was living in Phnom Penh and going to school for accounting—until the day she met a nice young man who wanted to marry her and her parents stopped funding her education. It was actually better for everyone that way, they reasoned; her little brother would be college-age soon, and they wouldn't have been able to afford to send them both to school. Nita was needed at home anyway, where she could tend to the house as her parents aged. Now Nita keeps the books for her mother's dry goods stand in the market. Everyday she'd sigh and tell me, "Sister, I'm so bored."
But Lisha flips a finger to these sorts of oppressive cultural expectations. In her single, "Woman," Lisha boasts that she's as strong, smart and independent as any man: "Srey Khmer mean tamlei, mean ith ti pul, mean pheap klahean, nung aht chop. Yeung mean pleurng haey yeung chengchang." In English: "Khmer women are valuable, effective, brave and resilient. We are the light, and we always shine." Lisha defied gendered cultural norms by earning a degree in traditional dance from The Royal University of Phnom Penh, Cambodia's Ivy, after finishing high school. At night, she sang in clubs, mostly pop, with the occasional rap cover. And after graduation, she landed a day job at a local radio station as a DJ.
It was at the radio station that she hooked up with DJ Sope to form The Phnom Penh Bad Boyz, a collective of five Khmer hip-hop artists who, at the time, mostly made music just for fun. As the Bad Boyz's First Lady, Lisha penned, and performed, raps for their collaborative tracks and for her own solo songs. "I grew up writing poetry, so lyricism came naturally to me, and I have a lot to say," she declared. Even if you can't understand her words, when you hear Lisha rhyme, you feel her—the vigor in her voice and the authority of her delivery are palpable.
Now Lisha works alongside KlapYaHandz, a collective of Khmer singers, rappers, artists and producers who collaborate to promote Cambodia, its people, arts, culture and history through hip-hop, R&B and alternative music. KlapYaHandz is the only collective of its kind in Cambodia, especially unique for their blend of progressive messages and hip-hop beats with traditional melodies from Khmer classics. This is done in an effort to champion their Khmer heritage and usher in fresh and positive thinking. Ten core artists are listed on KlapYaHandz's roster, but they constantly collaborate with emerging artists with unique perspectives. Lisha's been the first lady on the list since she joined the collective in 2007. She says she has always felt comfortable with and respected by her male colleagues, whose music also often speaks to a Khmer woman's worth.
I remember arriving in Cambodia prepared for cultural warfare, thinking I'd have to explain my free-form 'fro, cover my cakes, and keep my swag to myself. Instead I found that many of the young women I met were intrigued by Black beauty's mystique and hip-hop's grit, and they were fully committed to emulating the style of the rappers whose music they downloaded and images they glimpsed on social media. Nicki Minaj was their icon. Cambodian friends asked me to guide them through squat tutorials because they had to have an ass like hers. What they didn't want, though, was Nicki's complexion. My host sister, and many other women and men in Cambodia, bleach their skin, an act nodding to the painful belief that everything is cool about Blackness, except blackness.
Still, to witness Cambodia's hip-hop scene in action is to get the distinct feeling that change is coming for this nation whose creative scene was damn-near demolished during the Khmer Rouge, when some 2 million people, many of them thinkers, artists and musicians, were targeted and killed because they were seen as threats to the ideals and power of the communist party. Now, Friday nights have become about stunting–women with hair crimped and sprayed stiff into styles ripped from the pages of Hype Hair magazine; men with tight jeans slung low, cologne musky, fitted caps turned backwards. Both sexes denounce the traditional line dances of their parents and instead lift hands above heads, jumping and grinding to the universal sounds of hip-hop blaring at noisy nightclubs.
Not all women find hip-hop liberating, though, particularly older women rooted in Cambodia's traditional values. Tout Lynn, a married, 45-year-old mother and grandmother living in a small village two hours from Phnom Penh's bustling metropolis, for instance, isn't a fan. She thinks the drinking and partying promoted in the music is "disrespectful," and that it "goes against the culture," especially for women. "That behavior is for 'Srey Cowits,'' she says, Khmer for "loose women." When Lynn sees pictures of Lisha in the club, arms tatted, posing with her boys and bottles of Henny, she shakes her head and says "Aht Law. Not good. This is what happens when Khmer girls spend too much time with foreigners. There is too much temptation."
Lisha means no disrespect; she's just trying to do her, and as a mother she knows her responsibility is first to her family. She may be out late one night doing a showcase, feeding her creativity and sharing her messages with her audience, but the next morning, Lisha is up making a traditional Khmer breakfast for her children. Her life is a balancing act reflecting a woman's ability and right to have multiple identities, and she pumps this messaging into her music. Moreover, Lisha doesn't put pressure on herself to "get it right" all the time, a familiar challenge for many women. "As an artist, people expect me to have it all together. But I'm not perfect. I'm not really a role model," she says. "Yes, I'm a good mother and I'm strong, but I have flaws, and I want people to see that. Most of all, I want them to see that despite the flaws, I'm still confident as a woman."
In her music video for the single "Sweet Words," Lisha's in the studio bare-faced, hair loose, dressed in a simple black T, spitting a tongue-twisting verse with razor-sharp precision. Cut to the video's next scene and she's the vision of domesticity: hair neatly swept up in a bun, bouncing her baby son on her hip as she prepares lunch, suggesting a woman's options aren't just this or that, but this and that are a real possibility.
---
Glynn Pogue is a writer with wanderlust from Bed-Stuy, Brooklyn. Currently pursuing an MFA in Creative Writing Nonfiction at The New School, the do-or-die dreamer is at work on a collection of essays on race, class, identity and her beloved Brooklyn 'hood. Find her work in Essence, National Geographic Traveler, Oh Comely and at glynnpogue.com