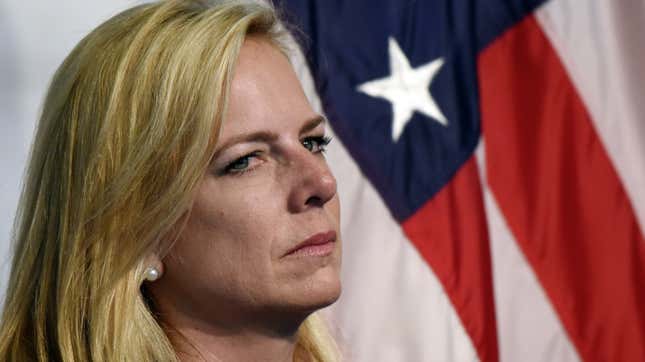 Kirstjen Nielsen may no longer be the head of the Department of Homeland Security, but the consequences of the inhumane policies that she championed remain. Just one example: the federal government is now arguing it may take up to two years to identify and reunite tens of thousands of children who were separated from their families in the months before the Trump administration's so-called "zero tolerance" policy at the U.S.-Mexico border gained national scrutiny in the spring of 2018.

Taylor Lautner Doesn't Even Remember Saying 'Bella! Where the Hell Have You Been Loca?'
In January, a report from the Department of Health and Human Services's inspector general revealed that beginning in 2017, thousands more children had been separated from their families than previously reported.
The lengthy wait time for reunification is entirely due to the fact that DHS and the Department of Health and Human Services did not think to track the children they ripped apart from their families. From the Times:
Thus, the total number of children separated from a parent or guardian by immigration authorities is "unknown," because of the lack of a coordinated formal tracking system between the Office of Refugee Resettlement, the arm of Health and Human Services that takes in the children, and the Department of Homeland Security, which separated them from their parents.
This monumental fuck up means that these agencies will now have to rely on a convoluted process to even begin to identify children who were released to sponsors and who may still be separated from their families. Per the Times:

To identify these families, the government said it would apply a statistical analysis to about 47,000 children who were referred to the Office of Refugee Resettlement and subsequently discharged, according to the court filing. From there, the government said it would manually review the case records of the children who appeared to have the highest probability of being part of the separated families.

...

In a court filing for the government, Jonathan White, a commander with the United States Public Health Service Commissioned Corps, wrote that identifying this group of children presented new challenges because they were already discharged from the Office of Refugee Resettlement, meaning the government "lacks access" to them.

The statistical analysis was required because manually reviewing the cases of nearly 50,000 children would "overwhelm" the office's resources, he wrote.
In March, as part of the ACLU's lawsuit over the Trump administration's family separation policy, the judge overseeing the case ordered that the federal government reunite families who had been detained and separated before he issued his June 26, 2018 reunification order.
The ACLU's Lee Gelernt told the Times that a two-year wait for these families was unacceptable, and that the ACLU plans to challenge this plan. "If the government believed finding these children was a priority, they could do it quicker than two years," Gelernt told the Times.