Baby oppression continues across America, this time in the form of a doll locked inside a car in Oakland, California, that was so beautiful the authorities broke in to save it.
On Monday, a bystander reported that a baby was trapped inside a parked, "blazing hot" car, according to ABC News. Emergency responders who arrived onsite to save it smashed open the car window and liberated what was actually a doll, but was so beautiful, symmetrical and lifelike that it fooled both the alarmed caller and the Oakland PD.
The doll was, simply, so beautiful it needed to be saved.
"Although this incident did not involve a baby or small child, it was unknown at the time," Officer Joanna Watson told ABC News. "And first responders' number one priority is to ensure ... safety." Though it was not a baby, Watson "encourage[s] anyone who believes there is a dangerous situation such as this incident to contact emergency personnel so we can make that determination."
The doll, whose bow lips were pursed in sublime, relaxed contentment, possessed such supple skin and flaxen hair as it reclined in its car seat that it was bordering on the surreal. Its upturned nose was as cute as a button. It's understandable why a passing pedestrian would hope to rescue such an example of baby-model-like features—but what message does that send to real, living babies, whose visages may not possess such visually appealing features, who may feel they have to live up to the expectations of lifelike rubber doll babies, occupying the valuable time of the police, fire departments, and emergency medical technicians who arrive onsite, who could be otherwise liberating live babies? It says to those babies, "you're only worth our tax dollars if you're as attractive as this doll," and is appalling.
Kudos to Officer Watson and her team for arriving so quickly—a human baby should never, ever be left in a car. But fuck this doll baby for its smug face, and entitlement to sit in a human baby car seat.
G/O Media may get a commission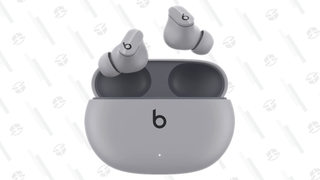 ---
Contact the author at julianne@jezebel.com.
Image via screenshot/ABC.