Here is yet another Bella Thorne beef for our internal dirtbag selves to feast upon. It's about ski masks and appropriation, Pussy Riot's involved...all the boxes: checked.
On Wednesday, Russian punk activist-musicians Pussy Riot tweeted that some of Thorne's new Filthy Fangs merch—neon ski masks—look pretty similar to their now-iconic protest attire—neon ski masks.

Thorne is no stranger to accusations of appropriation. In August, the launch of her debut, extremely expensive eye shadow palette was overwhelmed by drama. Fans of the affordable, black-owned brand Juvia's Place claimed Thorne was ripping off designs and, well, the palettes do look mighty similar. It was never really resolved, and Throne blamed the similar aesthetic on her manufacturer.
Of course, after Pussy Riot's tweet, Thorne loyalists and contrarian trolls alike blew up their @'s with comments like, "So you guys invented ski masks? News to me...." and "Trademark infringement maybe; copyright violation possibly. Appropriation?" and my personal favorite, "It's a ski mask... if Bella took it from you did you then appropriate it from bank robbers?".
G/O Media may get a commission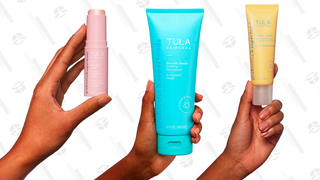 Eventually Thorne did respond, in her classic Thorne way. It starts with the word "FUCK," and it neither addresses the gripe head on nor does it articulate an understanding of what's going on, at all. It's perfect:
FUCK THE RED SQUARE, indeed.