The Spirit Weavers Gathering, a women-only "celebration of cultures past" in the idyllic redwoods of Mendocino County, CA, was founded in 2013 by Amy Woodruff, whose photo of herself breastfeeding while doing a naked headstand went viral a few years earlier. Judging by a recent Harper's Bazaar write-up by Marissa Meltzer, the gathering, which Bazaar dubs "The World's Chicest Cult," is essentially that photo times one thousand.
According to the Spirit Weavers Gathering website, the five-day event is "a remembering and practicing of basic human skills to ensure the survival of the body and the soul." This includes "fermenting foods, weaving, dying fabrics, creating ceremony, sharing meals at night and dreams in the morning, drinking tea, and making plant medicines," but most of all, "honoring our ancestors," whose identities some of the mostly-white "weavers" and attendees appear to be slightly confused about (via Bazaar):
Spirit Weavers has a casual and enthusiastic relationship to cultural appropriation that often feels like poor judgment. During the morning announcements after breakfast (congee with greens and gomaiso, bone broth, eggs, and fruit—the haute vegetarian food is by far my favorite part of Spirit Weavers), Amy says, "A lot of us have lost our roots. We don't know where we come from. Call in your mountains, your water. I call out the Sueño Indians. I grew up in Norco with horses and water from the well and was raised by the Santa Ana winds." The rhetoric of Spirit Weavers is a nebulous combination of religions, spirituality, eco-activism, and groupthink; most of what is said ends up sounding like lost Buffy Sainte-Marie lyrics.
The author observed that there were "many white kids running around dressed like Tiger Lily in Peter Pan" and people chanting something that sounded a lot like "hi-ya" around a fire; the author herself, it should probably be noted, conceded that she has a tattoo of the Virgin of Guadalupe on her arm, which is misspelled in the piece as "Guadeloupe."
Meltzer points out that the gathering's central directive toward "embracing the feminine" doesn't make any particular effort re: inclusivity as it relates to race, class, gender or sexuality "and probably a lot of other things I'm failing to mention"; feminism itself is hardly noted by name. Further, motherhood "loomed over everything—Mother Earth, Mother Goddess, exposed baby bumps—and began to feel like the only acceptable path to realizing your womanhood."
G/O Media may get a commission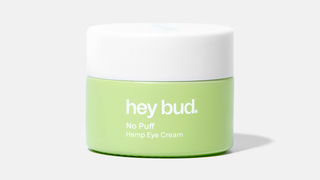 15% off
Hey Bud - No Puff Hemp Eye Cream
According to Harper's Bazaar, tickets for Spirit Weavers sold out after five minutes this year at $700 a pop (press isn't allowed, so Meltzer went quasi-undercover), and around 1,000 women attend two separate sessions (the "moon session" and "sun session") to accommodate popular demand. The heavily Instagrammed gathering is a parade of apolitical earth goddess whimsy and bourgeois nostalgia in which, from Meltzer's telling, both the personal (motherhood, sexuality) and the fantastical (tarot reading, talking to fairies in a tree; one instructor introduced herself as "a honeybee priestess in the British tradition") are framed as crucial and all-encompassing, setting a scene that is almost begging to be parodied on Portlandia.
Some notable observations, in no particular order:
By this afternoon, I overhear that 15 women have removed their IUDs together in a yurt.
The girl with the shaved head says we can feed our blood to plants: "You give life to them, and they give life to you." She says there's a marijuana farm not far that has fertilized cannabis with menstrual blood for two generations.
Liv asks us if "any of you connect to the little people." A girl in overalls says she saw one riding a bird once, and I realize they're talking about fairies. A woman around 60, with curly grey-blond hair, is sitting to my right on a sheepskin. "They like to hide in the dark places," she says.

...

Liv starts to translate what the little people are telling her, channeling their voices like a medium. "Can they hear us?" the "little people" ask. "Can they see us?" Someone near me calls out yes. I look up from the tapestry expecting to see Tinkerbell, and realize that several people in the workshop are sobbing.
Anyway, if someone knows where I can find that marijuana farm fueled by period blood, please email me.
---
Image via screenshot/Instagram.