Recently a friend threw down this gauntlet in a Facebook makeup group: Just a general PSA, my mega-babe aunt who you won't believe is 60 has a YouTube tutorial channel that I like for skincare advice. Her name is "Melissa55." She is a mother of two, grandmother to seven, and is, in fact, a mega-babe.
According to her profile, she lives, along with her family, in a small southern town in East Tennessee.
My family is everything to me. Every Sunday, I fix a big Sunday dinner and we all gather at our house to recharge our batteries and just have fun together. My husband, Doug, and I live in an 1886 Victorian house that we are still in the process of restoring! I feel like if we stick together in this aging journey, we can lift up each other and grow older gracefully and beautifully. Thank you so much for watching my channel It means so much to me. Love, Melissa.
Though I can't say I'm generally on the hunt for advice of this sort, I was instantly charmed and mesmerized by this Southern lady and her folksy, earnest bubbliness and twang. I started with the video "Get a Hair BumpOvernight." In it, Melissa55 instructs viewers on the easiest way to tease and spritz your hair for some added height at the crown.

The kicker? How she goes covert ops so husband Doug doesn't have to know. "Now I don't wanna go to bed with a roller in my hair for Doug to see me like that, so I cover it with the rest of my hair," she remarks casually. "I sleep with my hair up most of the time so he doesn't have any idea when I do this that I actually have a roller in my hair."
G/O Media may get a commission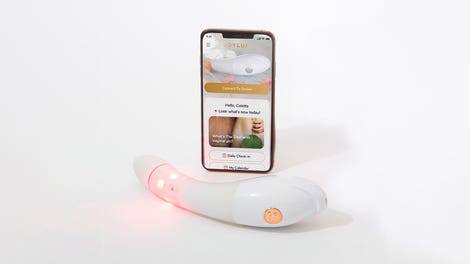 $50 Off
Joylux vFit Gold Device
I immediately searched my brain for any secret beauty routines I actually hide from my household, and there is not a single one. There is no secret waxing, shaving, bleaching, or primping that I make any concerted effort to disguise. But Melissa55 is from another era, a generation of women and a region still clinging to traditional notions of femininity, and like many women, fighting aging with every single thing they've got.
Commenters on the FB thread were thrown into a tizzy of admiration and puzzlement. Can she really be 60? WTF. Here is a screenshot:
If you watch the nearly 15 minute video on her "skincare journey"—yes, Melissa55's videos could use a smidge of editing, to be sure, but I say that while in no way meaning to diminish their conversational, sit-down-a-spell-and-let's-talk vibe—you learn that Melissa has been at this anti-aging business for a while. Since she was 14 she has been to doctors, researching, asking questions, and consulting particularly often with a sister-in-law who was a newscaster and had to worry obsessively about her skin.

In this video, we learn that her "secret" is basically Retin-A and Retinol. She doesn't moisturize. I REPEAT: SHE DOES NOT MOISTURIZE. She thinks it makes the skin too saggy and also makes it "lazy." From what I gather in this video, she keeps her skin in a "young state" by constantly forcing it to repair itself via acid peels. I am not a doctor, so I will refrain from speculating on how this sounds like not the greatest approach. And yet, look at Melissa.
This is one happenin' grandma.
In this other video on Botox and fillers, Melissa insists she has had no procedures done to her face save for getting her eyebrows waxed:
I find these videos so amusing because Melissa is the picture of a real Southern lady of this age to me. If I had ever worked with her, I bet we would have talked about Us Weekly, the weather, her grandchildren, and traded recipes for potato salad, and she would've lectured me about both my posture and probably smoking or drinking.

She is also so likable and down to earth, and while I'm never going to devote myself to this kind of work to stay young looking, I have always had a kind of appreciation for women who seem at ease juggling the duality of femininity—they offer a kind of transparent "this old thing" humility about the work it takes to transform themselves, while also acknowledging plainly that they are doing everything to eradicate nature's best efforts. The South is still the place where most beauty pageant winners hail from, the place where heavy makeup for day is highly acceptable if not situationally mandated. And yet, in spite of the glitzed up big-haired overdone image you have of Southern women, most of the women I've known there were just trying to basically "look pretty" in a girl-next-door kind of way—nothing too crazy or avant-garde.

Such modest goals tend to foster a very pragmatic attitude toward your own looks. You work what you've got, accent the best, and minimize the worst. And this requires a fair, honest assessment of the goods.

Melissa intimates in the skincare journey video that she's always been incredibly dispassionate about her skin—critical while not criticizing herself. "I wouldn't get down on myself or anything, I would just say, this is what your skin is doing, and this is what your skin needs,"she explains. She remembers taking a good hard look at herself in the mirror at 21 and assessing what her skin would be like when she was 70 or 80. From there it's a litany of product talk—mostly Obagi. She doesn't use a Clarisonic, she says. "It breaks down the muscles underneath."
She's also nice as hell about everything, insisting that this is just her journey, and nothing for anyone else to follow or be offended by."Well, I hope I didn't step on any toes," she drawls.

The rest of the videos are a gas. And on at least one point she makes on the Botox video I'm in firm agreement with her—why don't all anti-aging ads use actually older women? What's the point in showing us an anti-aging product on a 20 year old whose face hasn't shown the first sign of the passage of time?

"Of course they're going to look good," Melissa contends. "They could slap poop on their skin and they're going to look good."
And in spite of all this exhausting work—done so cheerfully—she insists that no one be too hard on themselves. "But now don't get down on your skin," she says. "It's your friend. It's there for a purpose." Well, it sure is.