Daliyah Marie Arana has read more than 1,000 books, and she's just four years old. That's 250 books per year, or four books per week, assuming that she exited her mother's womb already having plowed through the first several chapters of Madame Bovary, which, according to the Washington Post, isn't far off.

Ana Gasteyer Satirizes the Girl Boss in 'American Auto'
As her mother told the paper, Daliyah was recognizing words in books read to her when she was just 18 months old.
"She wanted to take over and do the reading on her own," her mother, Haleema Arana, said in an interview with The Washington Post. "It kind of took off from there. The more words she learned, the more she wanted to read."
At that stage in the developmental cycle, most children are just starting to suss out the names of their own body parts, pointing to their tummies or whatever on command. Daliyah, though, laughs in the face of these elementary milestones—by 2 years and 11 months, she'd already knocked out her first book.
By four, she'd conquered her thousandth, scoring her an invite to her "most favorite, favorite, favorite library in the whole wide world"—the Library of Congress, naturally. The visit was courtesy of Dr. Carla Hayden, both the first African American and the first woman to serve as the Librarian of Congress. Look at them stroll through the marbled halls, just two intellectuals rhapsodizing about life, literature and the human condition.
G/O Media may get a commission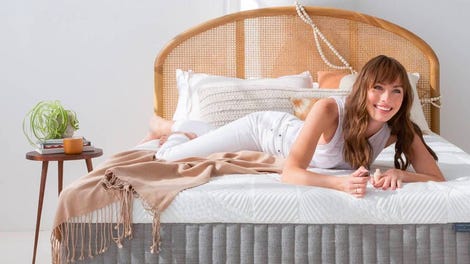 Sleep Sale
Sleep Sale - Brentwood Home
According to Cosmopolitan, Daliyah wasn't the only one who benefited from the visit.
"Dr. Hayden found it inspiring and was happy to agree to her request of being librarian for the day," Gayle Osterberg, communications director at the Library of Congress, told Cosmopolitan.com. "Among Dr. Hayden's many goals for the library is to grow young scholars and to make the library's resources available for more Americans of all ages."
Not convinced? Watch Daliyah slay this speech, called "The Pleasure of Books" by William L. Phelps. Yes, she says "punctilious."