There's nothing I love more than starting a Friday off with great news about celebrity couples, and there's nothing he loves more than her! On Thursday evening, he took to Instagram to reveal to his 1.1 million followers that she was now his fiancée, and thousands of commenters suggested they had never been more thrilled by a public declaration of love.
Those of us who have been following the couple closely knew this was bound to happen eventually. From their very first night together, it was clear that a lifetime of happiness was written in the stars—by which I mean "celestial bodies," not them.
He described that life-changing first date to J-14, a website, last year:
"I took her out to dinner, [then] I took her out to frozen yogurt, and we went to this place in Hollywood called Bourgeois Pig and got some cider. We sat in this really cute room and just drank some cider and talked. Then I took her up to this place up in the Hollywood Hills that has basically a panoramic 360 view of all of Hollywood and all of the valley. So, we saw all the lights, the Hollywood sign, the Griffith Park Observatory, and it was so romantic. We were up there until 3 in the morning, just talking and looking at the lights. Then I took her home and it was the most perfect, most romantic first date ever."
Writes E! Online, she "felt a spark the moment they kissed." And after reading her recollection of the early stages of their courtship, so did I.
She said:
"We went to this park, because he's just like Romeo, and he was just like—I'm so grossed out by how cute he is—but he picked me up one day from my apartment. He had a car and he was a hot older boy. This was back before we were like really, really dating. We were just sort of seeing what happened. He took me to this park underneath a tree at sunset. He brought this guitar and he was like, 'Do you wanna come write songs with me in the park?' I was like, 'OK!...You're what movies are about!'"
G/O Media may get a commission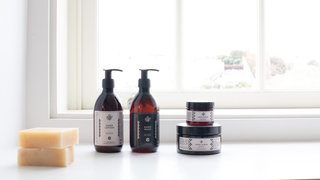 Exfoliate and Hydrate
The Handmade Soap Company
Though she does not specify which movies the "hot older boy"/love of her life reminds her of, I have a few ideas:
Congratulations, you two! I can't wait to find out who catches the bouquet.
Image via Getty.