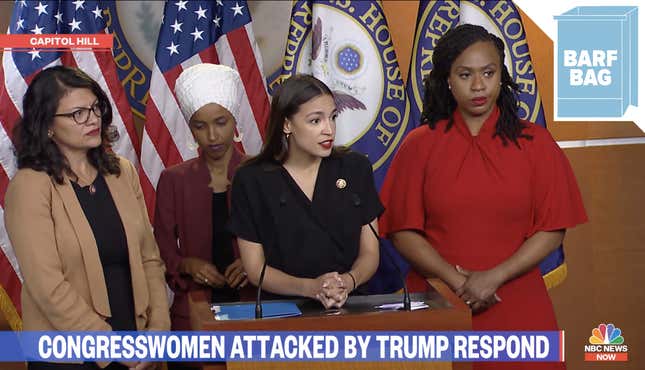 Happy Monday!
Here's all the shit we couldn't cover today:
Freshman Congresswomen Alexandria Ocasio-Cortez, Ayanna Pressley, Ilhan Omar, and Rashida Tlaib held a press conference in response to President Trump's racist tweets, in which he said the four women should "go back" to "the totally broken and crime infested places from which they came." The women did not waste time feigning surprise that a racist president with a racist policy agenda published a racist tweet. Instead, they took the time to reassert their own progressive agenda. "I encourage the American people... to not take the bait," said Pressley. "This is a disruptive distraction from the issues of care, concern, and consequence to the American people that we were sent here with a decisive mandate from our constituents to reform."
Betsy Wolfe Reveals the 'Most Embarrassing Thing That's Ever Happened' to Her on Stage
By the way, Trump says Nancy Pelosi is the real racist. Okay. [New York Times]
Trump is moving to end asylum protection for Central Americans at the U.S.-Mexico border. [ABC News]
And the ACLU is moving to sue his ass. [American Civil Liberties Union]
Beto O'Rourke—who is still a 2020 hopeful—penned a candid op-ed about his slaver ancestors and his support of reparations for descendants of enslaved people. [The Guardian]
In response to the slew of states making abortion access harder to come by, New York and Illinois are making it easier to get an abortion in their states. [NBC News]
Meanwhile, an Oklahoma judge upheld a law banning a common second-trimester abortion procedure. [Associated Press]
Here are some tweets the president was allowed to publish:
This has been Barf Bag.