On Monday, Meghan Trainor—who made her name with the song "All About That Bass," which purports to celebrate a curvy form—released the music video for her latest single, "Me Too," only to quickly remove it. The reason she gave? "They photoshopped the crap out of me," she told her fans on Snapchat.
According to Stereogum, Trainor says her body was changed, Britney Spears-style, without her awareness. The singer apparently demanded that the video be fixed to accurately represent her before it's once again made public.
"I'm so sick of it, and I'm over it, so I took it down until they fix it,' Trainor said on Snapchat, with a caption that read "Cried all morning lol hate them." "My waist is not that teeny, I had a bomb waist that night. I don't know why they didn't like my waist, but I didn't approve that video, and it went out for the world, so I'm embarrassed. I told them to fix it ASAP Rocky because I will be going to Times Square to play it for my fans so I hope they fix it for me. I'm sorry." (According to Billboard, Trainor had a viewing party for the video at the Hard Rock Cafe last night; whether anything was screened is unclear.)
She continued: "The video is still one of my favorite videos I've ever done, I'm very proud of it. I'm just pissed off that they broke my ribs, you know?'"
Trainor also expressed her anger on Twitter—vaguely, but with a very fitting emoji:
G/O Media may get a commission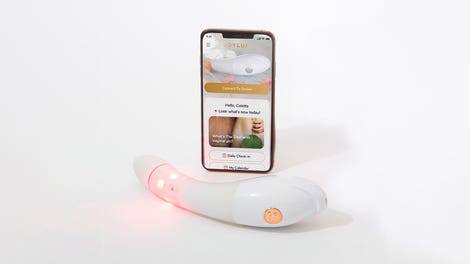 $50 Off
Joylux vFit Gold Device
And she talked about it on Watch What Happens Live! "Bring the cameras back to this beautiful waist," she said, standing and turning.
"I was so upset because I thought the fans were doing it online when they were screenshotting it, I was like, what's going on? Then I saw my video, I was like, oh my god. It's my own video. And I called the gods of Vevo and I said, 'Take that down now.'"
One wonders how she didn't see the video before it went up, but regardless: Trainor claims the video will be coming out this morning, and, in an interview with USA Today, says she will post a side-by-side of the two videos online.

---
Top Image via AP. Screengrab via Twitter.