In keeping with the Facebook meme as well as our peers, we have compiled lists of the ten most formative albums of our teen years. In the interest of consistency, we kept it between ages 13-17, and in the interest of honesty, we have not edited out anything we listened to because we retrospectively learned it was uncool. Please don't make fun of us.
Rich Juzwiak
Kate Bush, The Dreaming
Mary J. Blige, My Life
Prince, The Hits/The B-Sides
Björk, Post
Blur, Parklife
Trainspotting soundtrack
Missy Elliott, Supa Dupa Fly
Stevie Wonder, Songs in the Key of Life
Aphex Twin, The Richard D. James Album
Janet Jackson, janet.
---
Joanna Rothkopf
Cat Power, You Are Free
A Broadway Mix I Burned Myself (I only remember it had "My Strongest Suit" on it)
Red Hot Chili Peppers, Greatest Hits
Moulin Rouge soundtrack
P!nk, Can't Take Me Home
Alanis Morissette, Jagged Little Pill
Lilith Fair: A Celebration of Women in Music
Fiona Apple, Extraordinary Machine
The song "Hide and Seek" by Imogen Heap
TLC, FanMail
---
Anna Merlan
The Cure, Kiss Me Kiss Me Kiss Me
The Cure, Disintegration

Jawbreaker, Dear You

Jawbreaker, 24 Hour Revenge Therapy

Atmosphere, God Loves Ugly

Descendents, All
Alkaline Trio, From Here to Infirmary
Weezer, The Blue Album

Tom Waits, Rain Dogs

The Get Up Kids, Something to Write Home About

---
Madeleine Davies
Old 97s, Fight Songs
Weezer, Pinkerton
David Bowie, Best of Bowie
Andre 3000, The Love Below
The Detroit Cobras, Mink, Rat or Rabbit and Life, Love and Leaving
The Strokes, Is This It
Wilco, A Ghost Is Born
Sublime, 40 oz. to Freedom
The Rent soundtrack
The Moulin Rouge soundtrack
I don't feel great about a lot of this, but I'm trying to be honest.
---
Clover Hope
DMX, It's Dark And Hell Is Hot
TLC, CrazySexyCool
Lauryn Hill, The Miseducation of Lauryn Hill
Janet Jackson, Janet
Usher, 8701
Erykah Badu, Baduizm
Eve, Let There Be Eve
Lil Kim, Hard Core
D'Angelo, Brown Sugar
Aaliyah, One in a Million
---
Ellie Shechet
The Bridget Jones's Diary soundtrack
The Romeo + Juliet soundtrack
The Grey's Anatomy soundtrack
All of The OC soundtracks
Michelle Branch, Hotel Paper
Rachel Yamagata, Happenstance
Radiohead, The Bends
Ryan Adams, Gold
Rilo Kiley, More Adventurous
Tegan and Sara, So Jealous
---
Julianne Escobedo Shepherd
Dr. Dre, The Chronic
Bikini Kill, Pussy Whipped
TLC, Oooooh... On the TLC Tip
Mariah Carey, Emotions
Pearl Jam, Ten
Tsunami, Deep End
Björk, Debut
Velocity Girl, Copacetic
Babes in Toyland, Fontanelle
Snoop Dogg, Doggystyle
---
Kelly Stout
Spoon, Gimme Fiction
Sufjan Stevens, Illinois
Fiona Apple, Tidal
Tori Amos, Little Earthquakes
Guster, Keep It Together
A compilation of songs from the early '80s that my mom bought at Starbucks and I would love to find
G/O Media may get a commission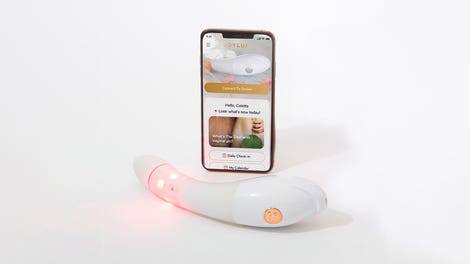 $50 Off
Joylux vFit Gold Device
The Shins, Oh, Inverted World
"Party 2K4...by LISA," a mix CD that included a lot of R. Kelly
"Mix for Kelly" which included a lot of Death Cab for Cutie, Dashboard Confessional, and Incubus, made my friend Molly when we were first becoming friends
Death Cab for Cutie, Plans (Molly's mix worked on me)