Historical romance covers of the late '80s and early '90s are instantly recognizable—a triumph of design, frankly. But equally striking are the covers for these science fiction romance stories from the period. In 3034, we won't need spacesuits, just pants and rippling abs. The future looks bright!
Science fiction romance has never been quite as enormous as, say, historical romance. But that's not to deny that there's a tenacious core of enthusiastic readers and writers going back decades. For instance: All these early '90s releases from Dorchester Publishing, from their line branded "Futuristic Romance." The tagline: "Love in another time, another place." Each cover hews to a pretty neatly defined look—and that look is trippy as hell.
It would be easy to razz covers so light on fabric and heavy on eyeshadow and just magnificently dated. But it's actually beautiful to see women seizing the tropes and visual style of something as dude-dominated as Golden Age science fiction and repurposing them for a genre that revolves around female pleasure.
Denim jeggings! Blue eyeshadow!
G/O Media may get a commission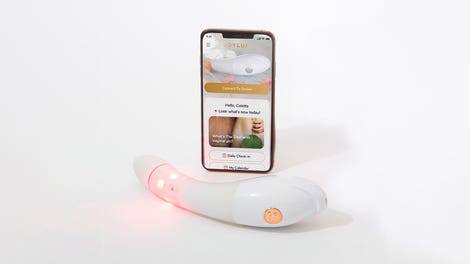 $50 Off
Joylux vFit Gold Device
The plot sounds amazing:
A privileged passenger on the skyliner Moon Courier, Alena Yor was waiting for the journey to end and her new project as a high-ranking cartographer to begin when she first met virile officer Garner Rie. Handsome and courageous, Garner intrigued Alena like no man had before. But surrendering to his touch would mean nothing but misery for them both. For any contact between the lowly officer and the highborn beauty was strictly off-limits in their rigid world—and Alena had been raised to play by the rules. But when the ship's systems failed and they were forced to evacuate, Alena found herself in Garner's strong arms, hurtling toward an unknown world.
Funny how the fashion of the future looks like skimpier '80s pageant-wear. (Just imagine the innovations in sparkle technology that await us.) Those earrings, though!
The back cover says:

The message was explicit—no other man would do but the virile warrior. Determined that Brace must join her quest, Marissa rescued him from unjust imprisonment, then nursed him back to strength, never telling the arrogant male that he was just a pawn to exchange for her sister's freedom. But during the long, cold nights Marissa found herself irresistibly drawn to his hard warrior's body, and as the danger-filled days flew by she knew her desperate mission was doomed to failure. For how could she save her sister by betraying the one man she could ever love?
You just don't see a lot of leather vests and gold armbands on men anymore, a real pity. P.S. Is that Nicole Kidman?

If you see "sensual earthman" in somebody's OKCupid bio, run like hell:
Torn between conscience and craving, duty and desire, peace-loving Chrysana d'Morne hardened herself to plunge her blade into the heart of Drew Richards—the sensual earthman her dreams warned would destroy her father's city. Haunted yet aroused by visions of the future, and by the allure of Drew's exotic eyes, the ravishing Seer struggled to choose between her homeland and her heart. For one stroke could mean release—from the mounting threat of Drew's enigmatic presence and the mysterious seduction he promised. But one caress could mean ecstasy—and a lifetime of love beyond the stars.
(Toward him or away from him is your call.)
Another piece of pageant attire, this one attesting to the miraculous fabrics of the future and their ability to stay up despite no straps:

What's this one about?
Only Herne saw the woman. To the other explorers of the ruined city she remained unseen, unknown. But in the dead of the night she beckoned Herne to an illicit joining with the words, "I am your fate. Accept it, for there is no breaking the threads spun before time began."

With the dawn's light she was gone, but Herne found he could not forget his beautiful seductress, or ignore her uncanny resemblance to another member of the exploration party. Cool and reserved, Merin could pass for the enchantress's double, except for her touch-me-not manner. Determined to unravel the puzzle and to penetrate Merin's protective shell, Herne began a seduction of his own, one that would unleash a whirlwind of danger and desire.
Try "I am your fate. Accept it, for there is no breaking the threads spun before time began" as a pickup line when you're out at the bar this weekend, see how far you get.
Don't look now—it's FABIO!
Matching headbands means your love is true:
Sheltered and innocent, Eirriel longed to lose herself in Aubin's hard, muscled embrace, but she could not become his mistress. For she had been snatched from her forgotten world by invaders who threatened to destroy it. And Eirriel vowed to stop them—even if it meant leaving the virile rescuer whose mere touch aroused a burning desire like none she had ever known.
This says four-volume light rock CD collection and I'm feeling it:
But no, it's not about a torrid weekend at Destin:
She was sheltered and refined, a gentle beauty who had no place with a man like Tynan, bent on revenge. Yet Tynan sensed a mysterious strength deep within Tallia, a strength that would be severely tested as her true identity was revealed, and she was called upon to prove her love for the wastelander who had stolen her heart.
My personal favorite of the lot:
Is this about what a couple of ski instructors do on their days off? Surprisingly, no!

The last of her line, Thea possessed strange and inexplicable powers, yet she couldn't resist the charms of a virile captive. But with her frozen land facing annihilation, she had to trick the blond giant into risking a daring ruse that endangered her heart as much as her life.
Goodness:
On what planet do the women wear nothing more than gauzy scarves? Earth, apparently!
Asyshen Rahs has crossed the cosmos to explore an amazing blue planet and its vast seas, only to be shot down from the Mississippi night sky. Seeking refuge in an earthling's dwelling, the warrior was drawn to his beautiful captive—a strong-willed woman whose warm body tempted the hardened soldier to make her his alone.

Suddenly a prisoner in her own home, single mom Laura Malek found surprising solace in the broad-chested star traveler whose sure touch and strong embrace made her fear for the day he would return to his own galaxy. But Aayshen Rahs belonged to among the stars, and only through the power of love could their passion survive in a world that was...

NOT QUITE PARADISE.
Well if that's not your idea of paradise I'm not quite sure what to tell you.
---
Contact the author at kelly@jezebel.com.