Beginning in the mid 1930s, government-funded photographers fanned out across the country to document America. And now, thanks to a spiffy new database, you can browse these frankly amazing photos county by county. Look up your hometown!
The photos are part of the Farm Security Administration—Office of War Information collection, which lives at the Library of Congress. Now a team at Yale has taken the photos and rolled them into an incredibly handy interface called Photogrammer. They've made it all mappable, so you can browse by location. You can also search the database for particular terms—farmers, teachers, children, cats, whatever your interests. You could easily spent your entire afternoon playing with different ways into these 170,000 photographs.
The original purpose of sending out all these photographers was to document Depression-era America (and, you know, drum up support for all those New Deal programs). A good chunk of the collection reflects the harsh realities of the time. For instance, Dorothea Lange's 1938 photographs of the lines at the San Francisco unemployment benefits office.
Here's a "Morman woman, native of Denmark, receiving her first old age assistance check," according to the caption.

G/O Media may get a commission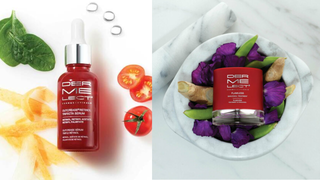 Save $19
Retinol Renewal Kit
But it's not purely hard times, either. The collection—which contains more than 170,000 pictures—ranges from 1935 all the way to 1945. Browsing the collection you can see America's priorities shift as the country's industrial base geared up for World War II. Here's a 1942 shot of a man training a female aircraft worker. The caption explains: "Looks like 'boy meets girl' in wartime and in war plants, but it's serious business here, for these two are among the hundreds of young people employed in a West Coast aircraft plant. He's a leadman and is instructing her in the use of a power rivet-squeezing machine."
The photographs are often workaday rather than artsy or even journalistic, which makes them even more fascinating. For instance, there's a string of photographs taken in Queens in 1943, depicting the pasta-making process at the Atlantic Macaroni Company. The caption on this one notes that, "After coming down the chute, finished macaroni is occasionally raked before packing to keep it from pilling up and clogging the flow." There's something moving about a moment so carefully documented and so thoroughly random.
Occasionally you get the distinct impression you're missing some important context. For instance, all the photos (more than a dozen!) from 1941 talking up cotton stockings, including this modeling job by actress Rita Hayworth. Pearl Harbor hadn't even happened yet, so why all the enthusiasm?
The best images are simply slice-of-life. Sometimes there's a goofy flashback element; the Verge points out all the photographs of children doing shit that they'd never be allowed to try now, like playing with automobile parts. Sometimes it's more familiar. Here are some men watching a baseball game in Atlanta in 1939.
The New York City street scenes alone are amazing and engrossing, particularly for current residents. Worth checking out.
---
Contact the author at kelly@jezebel.com.
Library of Congress, Prints & Photographs Division, FSA/OWI Collection, [LC-USF33-004311, LC-USF346-BN-018310, LC-USF34-018750, LC-USE6-D-004093, LC-USW3-014919, LC-USE6-D-001614, LC-USF33-030410, LC-USF3301-011040, LC-USF3301-006714]