Rihanna was in the United Arab Emirates over the weekend, and posed for a series of pictures in front of Abu Dhabi's Grand Mosque. She looked rather fierce in an all-black outfit and hot red lipstick. However! While her hair was covered — abiding by the mosque's guidelines — after posing like she was doing a fashion shoot, officials were all GTFO.
Rihanna never actually set food inside the landmark building — she was merely in the courtyard of the Sheikh Zayed Grand Mosque Center. Still, as the AP reports, she was asked to leave the premises after these images were shot. The mosque released a statement, which reads, in part:
She was asked to leave before entering the actual mosque, (she was in the courtyard taking pictures) after taking some photos that did not fit within the rules and regulations set out to preserve the sacredness of the center.
Most of the shots are not that provocative, but there was one in which Rihanna was lying down near a reflecting pool or fountain; the caption on her Instagram read "Abu Dhabi #NoTanLines"
G/O Media may get a commission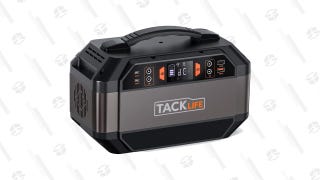 Tacklife Portable Solar Generator
At this point it's safe to say Rihanna's tour has been a Tour De Controversy, since there were three different arrests made in Thailand while she was there: There was the slow loris incident, which led to two arrests, and the sex show tweet, which resulted in jail and a fine. She'll be in Tel Aviv tomorrow. ISRAEL GET READY. (After that, she has shows in the Dominican Republic, Puerto Rico and Barbados before landing back on the continental US for a concert in Denver on November 9.)