When her Vanity Fair cover was released this morning, Caitlyn Jenner did a better job of breaking the internet than Kim Kardashian - but the 'damage' is far from over. The story—a captivating profile of Jenner written by Buzz Bissinger—is every bit as memorable as its cover.
Bissinger (a "cross-dresser with a big-time fetish for women's leather") called it "the most remarkable story I have ever worked on in 38 years as a journalist," and it's easy to understand why. Below are some of the most notable quotes that followed the already-legendary "Call me Caitlyn" headline.
---
On watching Bruce play golf before making his new identity public:

He played by himself because he almost always played by himself, a loner who said he wasn't lonely, although it was hard to see the difference.
G/O Media may get a commission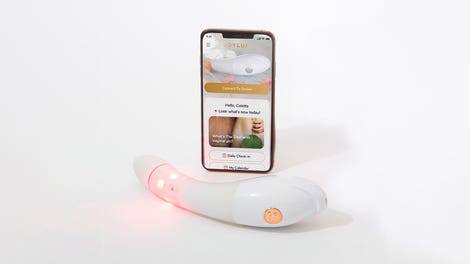 $50 Off
Joylux vFit Gold Device
Jenner, on a lifetime of feeling like the odd one out:
"I wish I were kind of normal. It would be so much more simple."
On Caitlyn's newfound honesty:
Bruce Jenner was 'always telling lies.' Caitlyn 'doesn't have any lies,' she says.
On being on top of the world after his Olympic victory, and still feeling like an outcast:
He tried out for the lead role in the film Superman, which was too much of a stretch without any acting experience, although Jenner was actually one of the great actors of our time.
"I walk off the stage and I'd feel like a liar. And I would say, 'Fuck, I can't tell my story. There's so much more to me than those 48 hours in the stadium, and I can't talk about it.' You get so mad at yourself...Little did they know I was totally empty inside. Totally empty inside."
"'I don't want to be this way' was the bottom line. Who would want to be dealing with all these issues?...I look at men and say, Oh my God, would it not be so wonderful to be comfortable in your own skin, male or female, so when you wake up in the morning you get dressed and go to work and this identity issue is not even present?"
On avoiding regret:
"If I was lying on my deathbed and I had kept this secret and never did anything about it, I would be lying there saying, 'You just blew your entire life,'" she told me. "'You never dealt with yourself,' and I don't want that to happen."
Bissinger, who admits he often slipped with the pronouns, on how Bruce doesn't "really get hung up."

"A guy came in the other day and I was fully dressed—it's just habit, I said, 'Hi, Bruce here,' and I went, Oh fuck, it ain't bruce, I was screwing up doing it."
On her cup size after taking hormones in the 80s:
Jenner insists that he was a 'good solid b cup' when he met Kris Kardashian.
On everyone who says her transition was nothing but a publicity stunt:
"You don't go out and change your gender for a TV show. It ain't happening."
On her sexuality:
Bruce Jenner as Bruce Jenner had a sexual appetite exclusively for women. Caitlyn has no idea what the future will hold as Caitlyn Jenner. But, she adds, it is not important to her right now. "If you have a list of 10 reasons to transition, sex would be number 10."
On how much Kris knew from the beginning:
Jenner is emphatic that he told Kris he had taken hormones in the late 1980s up until the year the met...He finds it implausible for her to suggest she was not aware of his gender struggle.
[Kris said] Bruce was often angry and upset during the last years of their marriage. "He was married to me and he wasn't who he wanted to be so he was miserable...It was the most passive-aggressive things I think I've ever experienced...Why would you want to be married and have kids if this is what you wanted since you were a little boy? Why would you not explain this all to me?"
On her struggles as a parent:
"I have made a lot of mistakes raising the four Jenner kids...I wasn't as close to my kids as I should have been."
On receiving a call from TMZ in 2013 about her tracheal shave.

Jenner remembers pulling his car to the side of the road. He pleaded that nothing be published because it would "destroy lives." The pleas were unsuccessful...The night after publication, he contemplated suicide with a gun he kept in the house.
On Girls' Night:
As part of the transition, Jenner started hosting intermittent and small gatherings called "girls' nights," casual occasions with wine and food in which Jenner could dress as desired and feel natural and comfortable in the presence of women.
On her current relationship with daughter Cassandra.
"We talked more than we ever have. We could just be girls together."
On her first public appearance:
On July 15...she will be awarded the Arthur Ashe Courage Award at ESPN's ESPYs in Los Angeles.
On choosing life:
"I'm not doing this to be interesting. I'm doing this to live."
On Caitlyn, now:
I can report that Caitlyn seems immensely happy, relaxed, with a shiny sense of purpose and confidence. She can't wait when she goes out now to tell the paparazzi to "make sure it's a good shot."
Oh, and about choosing the whole 'Caitlyn' instead of 'Kaitlyn' thing...
Just look at her.
The full profile, currently available to subscribers only, can be found here.
---
Contact the author at bobby@jezebel.com.
Image via Vanity Fair.