A dark and fascinating little item that's been bobbing just beneath the surface of of the gossip sites over the past few weeks is the custody battle over a guitar once owned by the late Kurt Cobain that may be worth several million dollars.
You see, after his death, the guitar (a Martin D-18E that Cobain played during his legendary MTV Unplugged performance) belonged to his wife, Courtney Love, who eventually passed it down to her daughter, Frances Bean. Frances Bean is currently in the process of divorcing her husband of about two years, Isaiah Silva. Silva, 31, claims Frances, 23, gave him the guitar "as a wedding present." Frances and her mother claim that's bullshit.
Writes Page Six:
Cobain's mother, Courtney Love, claims her daughter never planned to give the guitar away "It's not his. It's a treasured heirloom of the family," Love told TMZ over the dispute. "It's not his to take."
But he's still trying to take it, and the Cobain's have brought in the big guns. Or, just one big gun, by the name of Sam Lutfi. You may not remember him by name, but you'll likely remember the story.
G/O Media may get a commission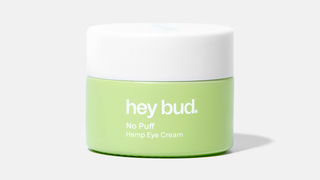 15% off
Hey Bud - No Puff Hemp Eye Cream
Lutfi was Britney Spears's manager back in the late-aughts when she was struggling with several family and health issues. They had a tumultuous relationship—one that is still being fought about in court—and Lufti was eventually fired from his job once Spears's father Jamie was named her conservator. Maybe he supplied her with drugs. Maybe he didn't. The point is, he's a "tough guy," and Courtney Loved hired him to get that dang guitar back.
Writes Page Six:
Bizarrely, sources say that part of the sketchy scheme cooked up by Lutfi — who has been a confidant of Love's for several years — is to threaten Jessica Sullivan, 27, the mother of Silva's 7-year-old child, Arlo, apparently in an attempt to get her to side with Frances in the upcoming divorce proceedings, in which the guitar will be the headlining act.
It gets even uglier.
In one call, Lutfi tells Sullivan that Frances would "take care" of Sullivan and her family "until the day [she] dies" if she took Frances' side. But in a frightening tirade, he then threatens to make sure Arlo ends up in an orphanage, and promises that he would "put away" Sullivan and Silva if they didn't cooperate.
Page Six then reports Lutfi himself provided them with text transcripts in which he called Sullivan a "sick bitch" and a "white trash con artist." But though he's apparently quite pleased with his disgusting tactics, the guitar's fate is still up in the air.
[Page Six]
---
In an interview with People, a member of Taylor Swift's squad named Martha Hunt (a Victoria's Secret model) confirmed that Hiddleswift is real. "They're both happy and free together," she said "at a Pepsi event celebrating World Emoji Day." This is unsurprising, because those who are part of Taylor's squad will say whatever they're told in order to stay in it. But take a look at the next line of the story:

In fact, they're so happy that Hunt would use the emoji "with the biggest smile" to best represent the couple.
The emoji with the biggest smile.
The emoji with the biggest smile...
...the biggest smile....
Hmmmmmmmmmmmmmm...
[People]
---
This is a photo of Halle Berry in her "happy place."

---
---