Everything that was once old and then became new and then got old again is once again new. See what I did there? I rebooted an aphorism. You like reboots don't you? Hollywood is quite sure of it, and when has Hollywood ever been wrong?
If you've been paying attention, you know that there's nothing new under the sun, including the idea that nothing is new under the sun (however the sun is wearing sunglasses now). We're on our third Spider-Man film franchise in two decades. Heathers is back and queerer than ever. Roseanne is back and more right wing than ever. Universal tried to resurrect its classic monsters by doing the bare minimum with The Mummy, rebooting (yep) a reboot, and assuming everyone is so mummy-starved that they'll just flock to it (mummies are not water and we haven't been locked in a tomb for thousands of years).
I could go on and on and sound like I'm on a loop, because guess what? That's exactly what I'm on. We all are. And here comes Disney to make the loop stronger, shinier, more vomit-inducing. The Hollywood Reporter notes that Disney's upcoming Netflix-like streaming service "is going to be a prime hub for remakes, reboots and all manner of familiar IP," according to buzz.
Potential projects include a live-action Star Wars show and another Muppet reboot (which would follow the ABC show The Muppets that ran from 2015-16, which followed two theatrical movies in 2011 and 2014, which followed Muppets Tonight in the late '90s, which followed...). There is also, you may remember, a CGI Muppet Babies reboot on the way.
Other potential unholy resurrections, according to THR's anonymous sources, are High School Musical (didn't that just happen?!) and The Mighty Ducks as a TV series. The article adds: "The Parent Trap (1998), Father of the Bride (1991) and Honey, I Shrunk the Kids (1989) are among the first projects on the table for potential film reboots."
G/O Media may get a commission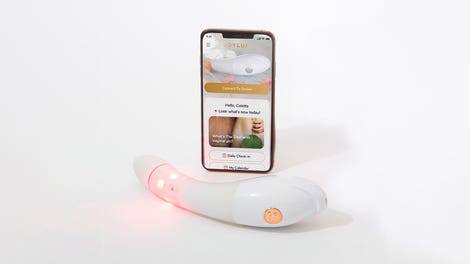 $50 Off
Joylux vFit Gold Device
I would just like to point out that two of those three films are remakes themselves. It shouldn't be absurd that we're rebooting reboots, it happens all the time and I've already described several such examples in this brief post. And yet. Clearly, even those who can remember the past are nonetheless doomed to repeat it.