Today in things I wish I'd known existed one year ago: a suburban Chicago organization that trains therapy dogs puts on an all-canine production of The Nutcracker so successful that tickets to the event last year sold out in four hours. They're taking this year off, but they'll be back in all their adorable dancing dog glory during the 2012 holiday season.
According to the Wall Street Journal, PAWsitive Therapy's troupe of 28 Nutcracker performing dogs were just too stressed out last Christmas after nearly a year of rehearsals. Volunteers got burned out, as well, and unexpected microphone feedback during one performance spooked a golden retriever.
Still, the performance, which last year starred a Shih Tzu as the Nutcracker and a black lab named Tex as the Mouse King, was a hit with audiences. According to the Chicago Tribune, Barque du Soleil this wasn't, but it doesn't mean that the dogs didn't have fun.
"Well," said Jennifer Voss, the owner of Tex, who lay quietly by her feet now that he was relieved of his Mouse King crown. "Tex is not the best dancer, but he can hop, and he's very good at being dead."
PAWsitive's puppy performances of The Nutcracker started in 2000, and the audience was so large that it couldn't fit inside the building. Repeat performances were staged in 2002 and 2004. After that, many of the original cast was too old to perform the choreography, and a subgroup within PAWsitive formed called The Dancing Paws to train younger pooches in the art of dog ballet. The Paws perform dances besides The Nutcracker, sometimes demonstrating their line dancing abilities to the tune of Achey Breaky Heart, which you now have stuck in your head.
When they're not dancing to the delight of audiences, the all-volunteer staff of PAWsitive brings their pets to hospitals and schools, where the dogs cheer up sick people and sit with kids who have trouble reading aloud while they practice their language skills.
G/O Media may get a commission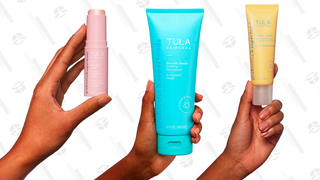 Even though you can't catch The Nutcracker (just accidentally typed "Nutlicker," which must have been a subconscious tip of the hat to how much dogs love their own balls) this year, don't fret. You can satiate the need for therapy dogs walking around to Tchaikovsky that you didn't know you had until right this second by purchasing an hour long DVD of the affair.
Nutcracker, Inc [WSJ]