Vitaly Borker, whose DecorMyEyes.com was exposed as a front to harass people and game Google, has been charged with mail fraud, wire fraud, making interstate threats and cyberstalking. His language is inappropriate for a family newspaper, to say the least.
David Segal, who exposed Borker and his various aliases in The New York Times, reported that Borker had told one woman who complained about a counterfeit product that she had put "hand in fire. Now it's time to get burned." He also "threatened to sexually assault her and later sent her a photograph of the front of her apartment building." That's the most polite description of Borker, who in his abusive emails was obsessed with rape, especially of the anal variety, and in at least one case, spreading false accusations of homosexuality and drug use among a customer's employers. The worst of it here, straight from the complaint.
Look, as long as the obscene photograph he attached "relat[ed] broadly to the subject line's invitation." Let's stay on topic.

Apparently many of Borker's customers were "fucking whores." Why is that his fault?
G/O Media may get a commission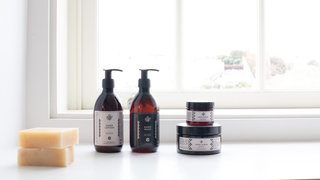 Exfoliate and Hydrate
The Handmade Soap Company
Borker seems to have an ass fixation.
When the offending customer isn't a woman, the best tactic is to call him a gay. And we know the gays love drugs.
Sometimes I get lazy about leaving Brooklyn, but Borker was really a trouper when it came to that stuff, if the right reason came along.
And he may have watched too many movies.

Really, at this point, anti-Semitism is icing on the cake.
Complaint Against Vitaly Borker Of DecorMyEyes [Scribd]
Online Seller Who Scared Customers Is Arrested [NYT]
Related: A Bully Finds A Pulpit On The Web [NYT]