If you're intrigued by the words "subatomic bisexual orgy," today is your day. The winner of the 2013 Bad Sex in Fiction award has been announced. Once again, it's a man!
The Independent reports that Manil Suri's novel The City of Devi is this year's winner. (As Time points out, past winners include Tom Wolfe, Norman Mailer and John Updike.) Suri's book involves three characters — Sarita, her physicist husband Karun, who has disappeared, and Jaz, a young gay Muslim. The sex in question involves all three. It reads, in part:
Surely supernovas explode that instant, somewhere, in some galaxy. The hut vanishes, and with it the sea and the sands – only Karun's body, locked with mine, remains. We streak like superheroes past suns and solar systems, we dive through shoals of quarks and atomic nuclei. In celebration of our breakthrough fourth star, statisticians the world over rejoice.
G/O Media may get a commission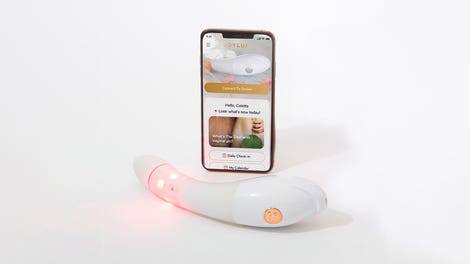 $50 Off
Joylux vFit Gold Device
But is it really the worst? Some of these other nominees are truly shudder-inducing. Take this passage from House of Earth, by Woody Guthrie:
So magnified and so keen were her feelings that her inner nerves could even feel the bumps, the ridges, the pimples, the few stray hairs along the shaft of his male rod.
Nope nope nope nope nope.
But wait, there's more from Guthrie:
And as she sucked the last drops of his blood and his seed into the folds of her innermost soul and self, she felt her whole body lift, pull, squeeze, then lift again, tremble, shake, and quiver, and in her fires of her stomach she strained and moved to bathe his blood into the rumble and the thunder of her own.
!!!! No words. I have no words.
Repulsive in a different way is Secrecy, by Rupert Thompson:
I closed my eyes as well and moved inside her, imagining the ribbed flesh, the supple rings of muscle. Mauve and yellow flowers filled the blank screen of my eyelids, the petals loosening and drifting downwards on to smooth grey stone. I kissed the soft bristles in the hollow of her armpit, then I kissed the smaller hollow of her clavicle.
There is one female writer among the nominees: Susan Choi, who penned My Education:
Weeping we knotted our bodies together, caressing and hushing each other, until we both must have slept, to awake it seemed many hours later, and gaze at each other in mute wonderment. 'F**k,' she said, sitting up. 'What the f**k time is it?
Lastly, maybe this reveals too much about me, but I actually think The Last Banquet by Jonathan Grimwood sounds… interesting?
In my mouth her nipple turned from strawberry to deep raspberry but the taste I wanted was missing. I had sweat and what had to be soap from washing her dress or herself. Reaching behind me, I found the Brie and broke off a fragment, sucking her nipple through it.
Titillating! Zing. I mean, anything that involves brie can't be that bad.