In 2011, Lisa Sprada became the female equipment manager for the sewer maintenance department of Cheektowaga, New York, a town just outside of Buffalo. Over the next few years, Sprada would be promoted — but she'd also get to spend her time being fielded with offers to have sex for money, watching her colleague masturbate, dealing with semen and generally being treated like a walking set of tits and a vagina.
Sprada has filed a lawsuit against Cheektowaga in U.S. District Court; the documents detail years' worth of sexual harassment Sprada endured while working in the department. A Buffalo News article about the case explains that the complaint includes details of "a male co-worker touching himself" and "comments about her body." But after looking at the court documents ourselves, we can tell you there's so much more than that. Here are some highlights.
• Sprada's male co-workers welcomed her to her new job with the exclamation, "Oh great, another broad."
• Neither Sprada nor her lone female colleague worked on Wednesdays. "As a result, the men routinely called Wednesdays, 'No-camel-toe Wednesday' or 'Pussy-Free Wednesdays' in front of the women."
• One of her coworkers regularly masturbated in one of the work trucks. She was lucky enough to get the opportunity to see him do this AND be given the gift of his semen.
In late September or early October 2011, the first time Mr. Ford masturbated in front of Ms. Sprada, he was in a work truck. Ms. Sprada began to get into the truck, to do her work, and she found Mr. Ford there, masturbating. She immediately exited the truck.

After Mr. Ford finished what he was doing, he asked Ms. Sprada what she thought of his penis.

...
The next time Ms. Sprada found Mr. Ford masturbating in a work truck, she attempted to shame him and make a joke of it, to get him to stop. She said, "Is that going to take long, or can we get some work done?" and then left. Mr. Ford completed his masturbation. A short time later that day, he told Ms. Sprada there was something for her in the truck. When she then entered the truck to do her work, she found that he had ejaculated onto the floor of the truck, leaving his seminal fluid for her to find there.
• Apparently, masturbation was a big part of work life for the men of the Cheektowaga Sewer Maintenance Department.
In February 2012, an employee named Ritchie Wdowik got wood glue on his shirt. The other men teased him that it looked like semen and joked how semen had gotten on his shirt. Ritchie Wdowik responded by talking about how much he masturbated, telling his co-workers and Ms. Sprada that he could "rub it as much as he wanted."
G/O Media may get a commission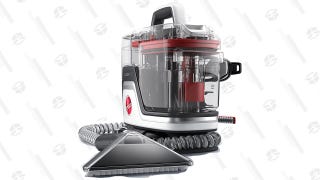 Save $10
Hoover CleanSlate Plus Carpet & Upholstery Cleaner
• They weren't only concerned with their own pleasure though.
...Ritchie Wdowik referred to a fire hose in sexual terms and then told Ms. Sprade, "I bet you play with your mud flaps or pink flaps in the shower."
• Her coworkers regularly referenced her giving them oral sex, which her supervisor said was a "long-standing joke."
In the Sewer Maintenance Department, the women's restroom is upstairs, adjacent to the foreman's office. Whenever Ms. Sprada went upstairs, the men asked her if she was going to "spit or swallow," implying that she was going to perform oral sex on the foreman while she was upstairs.

On her way up to the women's restroom, the men would hand her a glass to "spit into" or a napkin to "wipe her mouth," furthering the implication that Ms. Sprada had performed oral sex on the foreman. Sometimes the men would give her a choice between taking the glass or the napkin, asking, "Do you want this or this?"

Within a month or two of transferring to the position of Sewer Maintenance Worker, Ms. Sprada spoke to Supervisor Latshaw about the men's comments when she went to the restroom. In response, Supervisor Latshaw laughed and said that the comments insinuating that anyone who went upstairs was going to perform oral sex on the managers was a "long standing joke."
• Multiple male coworkers regularly felt the need to inform Sprada about the size of their penises.
One told her "that he had an eight inch-long penis that was very thick. He explained that he could have sex for two hours, but that his fiancée could not 'take it.'"
Another male employee, Scott Zaranek, would make sexual innuendos about work equipment to Ms. Sprada. For example, when she asked him if he needed an eight-inch blade, he would respond, 'Yeah, what would you do with that?" or "Yeah, you would like that" using a verbal tone with sexual overtones.
On October 24, 2012, Ms. Sprada injured her finger. Ms. Sprada told him she needed ice. Pete Dudek responded that he wanted her to "tell them my cock is so big that when it fell out of your mouth, you grabbed it and broke your finger." She declined to do so.
• Male co-workers would urinate in front of Sprada even though there was a perfectly good bathroom to be used.
On multiple occasions, another male employee, Gene Dudek urinated into a sink in front of Ms. Sprada. The sink was inside a work truck. On one occasion, Gene Dudek taunted Ms. Sprada to "not look," insinuating that he did want her to look. On each occasion, there was a men's lavatory nearby that he could have used rather than urinate in front of her.
• They loved it when she started reading 50 Shades of Grey.
While on break, Ms. Sprada was reading a book called "50 Shades of Gray." Ritchie Wdowik told Ms. Sprada that his wife had read that book also. He explained in graphic detail how his wife had spanked him with a belt, based on the book. Ritchie Wdowik then asked her, "Did you get to the part with the butt plug?" He then told her about the conversation he had had with his wife about that "butt plug." Another co-worker, named Scott Zaranek told Ms. Sprada that she should have a "safe word" with him, alluding to a code word participants in sado-masochistic sex use to indicate to each other that the sex acts have gone too far or that they are uncomfortable and want to stop. He suggested that they use the word "ice."
• She was offered $8,000 to have sex with one of them.
In July 2012, Mr. Ford offered her $8,000 to have sex with him. When she said no, he said that he would pay her for a "blowjob" or any kind of sexual touching. He told Ms. Sprada that he would pay her for any kind of sexual activity, a "blow job," sex, or anything else. She replied that she was not in that kind of business.
• One of the men asked her to sit on his lap, promising not to tell anyone. He also told her "he had had a vasectomy."
• One "told her she should bring in lollipops to work and put them in her mouth so that all the male employees could walk around with 'boners.'"
• Her breasts and nipples were a popular topic of conversation.
Mr. Ford randomly brought up her breasts in conversation, talking about how much he liked her "boobies." He asked her about her nipples. He asked her if her nipples were big and/or "really pink?" She told him it was none if his business. He asked her why she did not get "titty hard-ons."
• So was potential lesbian sexual activity with her other female coworker.
Pete Dudek began asking Ms. Sprada about another female employee named Dawn Burgio, whom the men called "The Burge." Pete Dudek asked where Ms. Sprada "ate [Ms. Burgio's] pussy" on the weekends? He pointed to the tables in the work space and asked, "On this table or that?" He then asked Ms. Sprada if Ms. Burgio was a "squirter," referring to vaginal ejaculation, and whether Ms. Sprada got Ms. Burgio's "pubes stuck" in her teeth. Ms. Sprada told him he was disgusting, but he kept repeating his questions. The next shift, during the dinner break, Pete Dudek told Ms. Sprada to imagine that the food she was eating was Ms. Burgio's vaginal "juices" in Ms. Sprada's mouth. When Ms. Sprada told him that his comments were "gross," he laughed and repeated them. Later that day, Pete Dudek talked to her about another male employee "cumming in his pants" and told her that if a woman ever laughed while having sex, he would "lose his boner."

The next day Ms. Sprada found that someone had placed a round, bristled vacuum cleaner attachment on her locker. The male employees routinely held that particular vacuum cleaner attachment to their crotches and pretended it was employee Dawn Burgio's vagina.
• One employee in particular, Dave Ford, was the best.
In September and October, 2011, when Ms. Sprada rode in the work truck with Mr. Ford, Mr. Ford would tell her that he had a "chub" as he grabbed his crotch and moaned toward her. During those months, Mr. Ford repeatedly told Ms. Sprada that he had sexual fantasies about her. He would tell her the details of his fantasies in explicit terms. In one such fantasy, Mr. Ford described how she would sit on his lap, facing him, with her breasts in his mouth, while moving up and down on him.
• Like actually just a fantastic person.
In November 2011, Ms. Sprada and Mr. Ford were driving together in a work truck. Mr. Ford pulled the truck into Respondent's garage and asked Ms. Sprada to kiss him. He begged her for oral sex. He unzipped his pants and pulled out his penis. Then he grabbed her head to guide it down to his penis. Ms. Sprada got out of the work truck, went to the bathroom, and cried. Shortly thereafter, Mr. Ford went out of work on Worker's Compensation. Even while out on Worker's Compensation, Mr. Ford stopped in to work every couple weeks to see her. On one visit, he tried to kiss her. When she refused, he became upset with her.

Mr. Ford continually told Ms. Sprada that he wished he had met her earlier, implying that if they had met before she had gotten married, they could have been together. A couple of times, Mr. Ford kissed Ms. Sprada. Because she had experienced sexual trauma as a child, it was extremely difficult for her to confront sexually intimidating men. Ms. Sprada did not want him to kiss her. When she told him no, Mr. Ford became very upset. Mr. Ford often pestered Ms. Sprada to have sex with him, which she refused. Mr. Ford continually told Ms. Sprada that he wanted to "get busy" with her and to meet her children. She said no.

Mr. Ford continued to ask Ms. Sprada for sex. She continued to decline. Mr. Ford asked Ms. Sprada when they were going to "make love." Ms. Sprada told him to leave her alone. Several times while riding together in work trucks, Mr. Ford would tell Ms. Sprada that driving over bumps in the road gave him erections. He would stretch the crotch of his pants tight, to expose his erection through the material. Mr. Ford asked Ms. Sprada how often she had sex with her husband and where they had sex. Ms. Sprada told him it was none of his business. When watching television at work, when there was a female on the television, Mr. Ford would ask Ms. Sprada if she would "do her." Mr. Ford would also ask Ms. Sprada and Ms. Burgio if either of them "would do" various female singers who performed on the radio.
• Bonus: All those times he talked about porn.
In August 2012, Mr. Ford showed Ms. Sprada pornography on his cell phone that depicted a school girl engaged in sex acts and talking on the phone. He asked her to guess what grade the girl was in. Mr. Ford told Ms. Sprada in August 2012 that he had started to watch pornography with red-headed women because it reminded him of her.
Finally, after the fact, "Several of the men," according to the lawsuit, "falsely claimed that Ms. Sprada had been the perpetrator and had been the one who was sexually harassed them." Sprada had previously filed a complaint against Cheektowaga and the Sewer Maintenance Department with the state Division of Human Rights, but the Division rejected the claim, according to the Buffalo News, because of evidence that indicated that Sprada "often participated in sexual discussions with co-workers and had kissed a co-worker...."
Townspeople have taken to local online forums to speculate about how much this lawsuit will cost them. According to the complaint, "Ms. Sprada observed that any co-workers who complained about the men's behavior was either ostracized or harassed. As such, she was fearful to complain." We cannot imagine why.
You can read the whole complaint here:
Image by Jim Cooke, photos via Shutterstock.