The ongoing scandal at Rupert Murdoch's News Corp. involves a lot of high-profile women. Today we take a look at some of the most famous ones — and a few less well-known women in Murdoch's life.
Rebekah Brooks
You may have heard a lot about Brooks in recent weeks — she was, until last Friday, the CEO of News International, News Corp's British newspaper company. She was also the editor of News of the World, the newspaper accused of hacking the voicemail of a murdered girl and making her family think she was still alive. The paper has now closed, and Brooks was arrested Sunday on charges of corruption and hacking. In a hearing before the House of Commons today, Brooks maintained she knew nothing about any hacking at the News of the World. She called the Milly Dowler allegations "probably the most shocking thing I've heard for a long time and certainly the most shocking thing I'd heard about potential journalists who work for News International."
Wendi Deng
Murdoch's third and current wife, Deng made news today for smacking a man who threw a pie at the mogul (watch it here). Headlines included obnoxious "tiger wife" and "crouching tiger" jokes referring to Deng's Chinese ancestry. Deng had been in the US quite a while by the time she married Murdoch, her third husband, but the story of her early years in the country is sort of interesting. From the Daily Beast:
When her family relocated to Guangzhou in southern China, she changed her name to Wen Di, enrolled in medical school but quit, and then befriended an American family, the Cherrys. Like her own father, Jake Cherry was a factory manager and an engineer. Wendi learned English from him and his wife, Joyce. Their friendship grew and the Cherrys agreed to sponsor the 19-year-old Chinese woman to come to the U.S. for undergrad courses at California State University in Northridge. There Wendi lived with the Cherrys, sometimes sharing a room with their young daughter. She eventually moved out, and two years later, in 1990, married Jake, who by that time had divorced Joyce. After a marriage that lasted long enough for Wendi to obtain her U.S. green card, Wendi divorced Jake, who is three decades her senior.
G/O Media may get a commission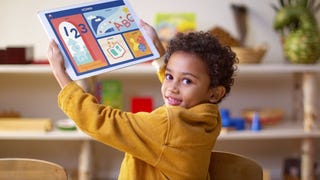 30-Day Free Trial
Homer Learn & Grow Program
Deng appears to have a fondness for older men — when she married Murdoch, she was 30 and he was 68. Now 43, she's been called "a de facto diplomat on behalf of NewsCorp in China." She also served as a producer on the movie version of Lisa See's novel Snow Flower and the Secret Fan.
Anna Murdoch Mann
Anna Murdoch Mann, nee Torv, was married to Murdoch from 1967 until 1998. Of their divorce, Mann said,
I think that Rupert's affair with Wendi Deng –- it's not an original plot –- was the end of the marriage. His determination to continue with that. I thought we had a wonderful, happy marriage. Obviously, we didn't.
She added,
I don't want to get too personal about this... but [he] was extremely hard, ruthless and determined that he was going to go through with this, no matter what I wanted or what I was trying to do to save the marriage. He had no interest in that whatsoever.
During their marriage, two men kidnapped the wife of another NewsCorp exec, murdered her, and fed their body to pigs, all the while thinking she was Anna Murdoch. They each served 20 years in prison. Murdoch Mann is also a novelist — her first novel, In Her Own Image, was "a lusty tale of two sisters in love with the same man on an Australian sheep farm." Published in 1985, it hit No. 2 on the Australian bestseller list.
Anna Torv
Anna Torv is Anna Murdoch Mann's niece, making her Rupert Murdoch's niece by marriage, at least before the divorce. She's also an actress, appearing on the TV show Fringe. Of her connection to Murdoch, she said, "I hate that that even comes up."
Patricia Murdoch
Murdoch's first wife Patricia was married to him from 1956 to 1967. She was the mother of his first child, Prudence, and died in 2000.
Elisabeth Murdoch
Murdoch's daughter with Anna, Elisabeth is now "the strongest family contender to take over at the helm of her father's empire," at least according to the Guardian. Her brother James has been embroiled in the hacking scandal and may have to resign from his position as head of BSkyB, a broadcasting company in which NewsCorp owns a controlling stake. Elisabeth, on the other hand, allegedly called for Rebekah Brooks's resignation, which could put her on top of a post-hacking hierarchy. One writer apparently overheard her say, "James and Rebekah fucked the company." Elisabeth Murdoch is currently CEO of TV production company Shine Limited. She's also married to Matthew Freud, great-grandson of Sigmund Freud.
Live-Blogging The Hacking-Scandal Hearings [NY Mag]
The Battle Cry Of The Tiger Wife: Wendi Deng Saves Frail Husband From Evil Pie-Thrower [Telegraph]
Ex–News International CEO Rebekah Brooks Arrested In Murdoch Hacking Scandal [NY Mag]
Live Blog: Murdochs, Brooks, Police Testify In Phone-Hacking Scandal [CNN]
Hacking: Rebekah Brooks 'Told Allegations Were Untrue' [Independent]
Crouching Tiger, Flying Murdoch [Daily Beast]
Elisabeth Murdoch Comes To Fore As Family Argue Over Phone-Hacking Crisis [Guardian]