Have you been wondering how to give your pet opossum a pedicure, massage or gourmet meal? Of course you have! No fear: there's someone to help you with these matters. As you might expect, she's awesome, and loves dead squirrels.
Most of us have only seen live opossums skittering across the road and scaring the hell out of us at 2 am, but the YouTube user ME Pearl, who goes by the pseudonym "Georgina Spelvin," has posted four videos with detailed instructions on caring for the creatures.
This includes Opossum Massage, which Georgina notes is important because, "A life fully lived is going to show on the feet, as well as the hoary face. That's H-O-A-R-Y. I would never make a moral judgment on an opossum, and neither should you."
Another on proper opossum dental hygiene, with a guide to brushing their "50 razor-sharp little teeth" with chicken-flavored toothpaste:
And one on how to cook gourmet meals for your opossum, i.e. feed it live rats:

In each video Georgina addresses the "elephant in the room": Most opossums belong outside, and injured or orphaned opossums should be treated by a professional wildlife rehabilitator. Since it's illegal to keep wild animals as pets in many states and Georgina's opossum Peach is clearly domesticated, we're assuming she's licensed.
Though it's actually unclear who "Georgina" is. The videos direct you to the website MEpearl.com, where you're greeted by "Pearl of Wisdom," some kind of dead squirrel deity:

G/O Media may get a commission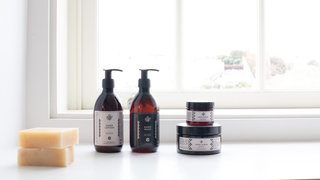 Exfoliate and Hydrate
The Handmade Soap Company

Pearl refers to Georgina as the "big pink human who was my earthly caregiver and is now my channeler." This appears to be a picture of them, which was taken before Pearl passed away — we hope.



There are several links on the website encouraging you to send Pearl $10. In exchange, she offers advice on matters of the heart, and the metaphysical:

Is it all a joke, or is Georgina really a possum enthusiast and psychic squirrel medium? Perhaps we'll have to consult Pearl for the answers.
Wecome Home [MEpearl.com]
Ask Pearl [MEpearl.com]