This June edition of the Wokest Baes, just like Sam Smith's discovery of racism, is better late than never. And before anyone gets too verklempt, yes, of course I saw Jesse Williams's BET Awards speech but he was honored last month and I've got to give every worthy woke bae a shot. Onto June's wokest baes.
Jack Dorsey
Bae Factor
G/O Media may get a commission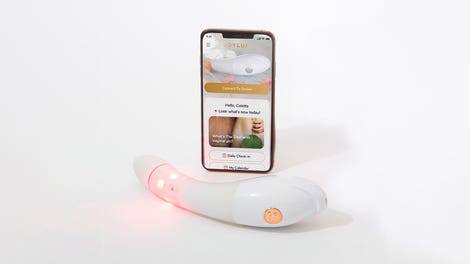 $50 Off
Joylux vFit Gold Device
Jack Dorsey is an unadulterated Silicon Valley bro who probably already yelled at four different people today, but my bae appreciation bone does not see color, tax bracket or ill temperament.

Woke Factor: I mean, he's literally wearing his wokeness on his chest, guys!!! Is that comfy-looking tee with an unfortunate font choice perhaps the peak of what my colleague Jia Tolentino called "performative allyship?" Absolutely, especially when you remember that Twitter only employees like 80 black people. But, you know, a t-shirt is bond.
Kendrick Lamar
Bae Factor
To quote the aggressive men on the subway who possess neither impulse control nor a basic sense of decency, I wish he'd smile more, but I'll take what I can get.
Woke Factor: Kendrick recently joined the supreme Beysus for a performance of their song "Freedom" during the Black Entertainment Television Awards and let me tell you, that was some real lit wokeness. A song called "FREEDOM" on a black television network? Yo. It was a very woke performance mostly because it was so damn energetic. All that jumping and splashing in the water definitely kept him alert to the many ills of society.
Joe Mande
Bae Factor
He's giving me guy-who-always-sat-in-the-back-of-the-class-doing-the-crossword-during-my-freshman-year-political-science-course-but-always-managed-to-ace-the-test-anyway.
Woke Factor: Joe Mande is a comedian who just wants us lay-days to be able to get some safe, legal abortions, ya heard? This is evidenced by his willing to literally fight random people who don't want us to get abortions. And you know he's serious because he listed his semi-exact location on a public website. I'll bring the Vaseline and gauze, Joe, because there is 100 percent a significant group of people want fight you over abortion access, so I really hope he wasn't just saying that because it sounded good in a tweet.
John Lewis
Bae Factor
Hey hey.

Woke Factor: John Lewis is almost certainly the wokest person to ever appear in this silly column and I almost feel bad for subjecting him to this but a woke bae is a woke bae and I refuse to ignore this fact.
I feel like John Lewis must be completely fed up with us and our nation and frankly I cannot blame him. This man had his skull fractured on the Edmund Pettus Bridge by state troopers when he was 25 years old and now, 51 years later, he's got to sit on a cold, hard floor all day just to remind Americans that maybe we don't need easy access automatic weapons. I don't know how you do it, Mr. Lewis. You are too woke for this world.
Fumbles In Wokeness or Baemanship
Justin Timberlake
Following May woke bae Jesse Williams's speech at the BET Awards, Justin Timberlake fell asleep at the wheel and didn't understand why people weren't happy that this brave white man dared to speak out at all about
Hm. Could it be, perhaps, because he hasn't opened his mouth about Black Lives Matter, oh, ever, but wanted to step in now while Jesse Williams was having a widely-applauded moment? Was it the condescension in his response to the challenge of his tweet as if Justin fucking Timberlake has a more astute understanding of race in American than anybody else.
For me, it was his apology tweets and this "human race" bullshit.
Because, sure, we are all technically the same, but it was a bunch of white people who took it upon themselves to invent the concept of race in the first place and then went on to benefit from the invention of whiteness, but now that people are calling out all the horrific shit done by white people for centuries and still to this day, let's all just be one people. Nah.
AND this motherfucker never apologized for throwing Janet under the bus during Wardrobe Malfunction-gate. It's going to take more than a sick Timbaland beat take up for this one, JT.
---
Gif via Bobby Finger. Images via Getty and the Library of Congress.