Trump, who previously bragged about his "great love" for Dreamers and claimed he would "sign any deal" on immigration made in Congress, appears now to be actively uninterested in achieving one. The very real potential for the forced deportation of over a million young people who were promised safety by the previous administration does not appear to weigh very heavily on his mind—though I'm not sure why we're surprised, since the president appears to have a half-eaten fried chicken wing in place of a normal human conscience.
Undoubtedly guided by the handful of hard-line lunatics who have his ear, Trump's ever-shifting demands appear to have moved beyond what can reasonably pass through Congress; he has publicly thrown his support behind a partisan bill sponsored by Republican Sen. Chuck Grassley, which significantly targets legal immigration—mostly a no-go for Democrats—in addition to Trump's original "border security" measures.
"The Grassley bill accomplishes the four pillars of the White House Framework: a lasting solution on DACA, ending chain migration, canceling the visa lottery, and securing the border through building the wall and closing legal loopholes," Trump said in a statement.
A new bipartisan bill sponsored by 17 senators, however, would appear to give Trump a lot of what he wants, including $25 billion taxpayer dollars to construct a physically and logistically impossible border wall. From the Washington Post:
The self-dubbed "Common Sense Caucus" of senators late Wednesday circulated legislation that would fulfill Trump's calls to grant legal status to 1.8 million young immigrants and would appropriate $25 billion for southern border security construction projects over the next decade — not immediately, as Trump wants. The bill also would curb family-based immigration programs, but not to the extent Trump is seeking, and would not end a diversity visa lottery program that he wants eliminated.
G/O Media may get a commission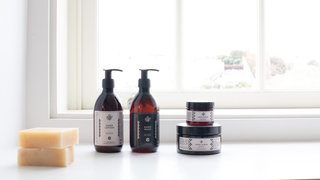 Exfoliate and Hydrate
The Handmade Soap Company
This, however, is evidently nowhere near enough for the administration; a "senior administration official" referred to the bipartisan bill as "giant amnesty," whatever that means, and told the Post that the White House is mobilizing against it. On Wednesday, the Department of Homeland Security published an astonishingly partisan press release denouncing a different bipartisan proposal from Senators John McCain and Chris Coons, which sidestepped the wall and legal immigration and simply offered increased border security in exchange for a pathway to citizenship for Dreamers.
"The American people know what's going on," Minority Leader Chuck Schumer said on the Senate floor. "They know this president not only created the problem, but seems to be against every solution that might pass because it isn't 100 percent of what he wants."
"The president's going to have a vote on his concept. I don't think it will get 60 votes," Sen. Lindsey Graham, a member of the "Common Sense Caucus," told the New York Times. "The bottom line then is: What do you do next?"
The implication here is that Trump will eventually have to make concessions in order to get the DACA deal he asked for. But although the president has proven himself again and again to be a spectacularly bad negotiator, the Trump White House appears to have one terrifying piece of leverage: indifference.