Welcome back to Midweek Madness, in which we send Callie Beusman to the newsstand to procure the latest issues of Ok!, In Touch, Life & Style, Us and Star. This week, Jennifer Aniston is pregnant and not pregnant; Kanye West is planning a big wedding; and Christina Aguilera and Britney Spears have each entered the Thunderdome for a spectacular clash to see who can be unfat faster.
---
Ok!
"ANGIE TALKS TWINS!"
Angie and Brad have done well with "the whole twins thing," so they want to do it again, says an source. A gaggle of "insiders" are talking about the twins as though a woman can one day say, "Yes, I'll take some twins, please, drop them right in this womb, doctor; what shall I name these new twins, Shiloh?" (Neither Brad nor Angelina has said anything indicating that they want more twins.) In other news, cagematch alert: a "Christina vs. Britney Body Battle" is happening right now. "The two former best friends never expected to take their decades-long tug-of-war to the scale, too!" reads the copy. Translated out of batshit-speak, this probably means, "Two fully-grown women never expected a decades-old fake rivalry to pop up years later in a magazine spread about who lost weight more quickly." (Fig. 1). On a sadder note, Lea Michele is planning on attending the Teen Choice Awards to honor her late boyfriend, Cory Monteith. According to an insider, she has difficulty getting out of bed, but she's trying to put on a brave public face. So, so sad.
G/O Media may get a commission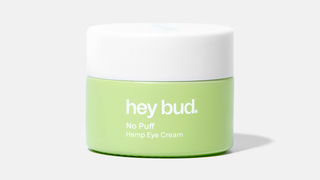 15% off
Hey Bud - No Puff Hemp Eye Cream
Grade: F (dog fight)
---
Life & Style
"YES, I DID IT!"
Goddess above, how many effing Jessica Simpson weight loss parables are we going to have to read in our short tenure on this earth? This one is headlined "Jessica's Baby Weight Triumph." The baby-weight-losing saga is the modern day Odyssey, apparently. Also, though we can't figure out what year this photo on the cover was taken, we are 99.9% it was not taken this year (if you know when, email us), and there's no interview inside with Jessica uttering the words "yes, I did it." Can we move on? Katy Perry texted Kristen Stewart to tell her that she wasn't trying to move in on R-Patz. Her testimony: "I fart in front of him. Properly fart." Next up, Jennifer Aniston is scared to walk down the aisle because of her "bump," which is "growing." As proof of the bump's increasing girth, the magazine helpfully provides the reader with three photographs of Jennifer Aniston on the same day from different angles (Fig. 2). Yawn.
Grade: F (cock fight)
---
In Touch
"DESTROYED BY FAME"
A bunch of lawyers who are not representing Teresa and Joe Giudice speculate about whether or not Teresa will testify against her husband. The article dwells on unpleasant hypotheticals and, of course, drags her innocent children into it. Sigh. Moving on: Dina Lohan is "falling apart." She was drinking a lot of wine at an art benefit, says a witness. The mag helpfully created an infographic outlining the disturbing similarities between mother and daughter (they both cry and wear floral dresses!) (Fig 3). Next. According to an insider, Kanye West has trapped Kim in her mom's mansion and turned her into a "virtual prisoner." "Her fame is a huge bone of contention in their relationship," says the insider. EXCLUSIVE: KANYE WEST HATES FAME. Elsewhere in the issue, we're treated to a fan-fic-esque spread describing the personalities of the Jolie-Pitt kids. Pax is "The Troublemaker," whereas Zahara is "The Jokester." And, finally: according to a "friend," Taylor Swift picked up her new date, Criminal Minds star Matthew Gray Gubler, by friending him on Facebook. Why hasn't Taylor friended us and made us a home-cooked meal :(
Grade: D (leg wrestling)
---
Star
"KHLOE ATTACKS LAMAR'S NEW GIRLFRIEND!"
A criminal defense attorney named Polina Polnsky allegedly submitted to and passed a polygraph test stating that she was under the impression Lamar had left Khloe when she started sexing him in June, since he was staying at the Roosevelt hotel and not at home. They had sex all month and then Khloe found out and came a-knockin' on hotel room doors, breaking one down. Polina and Lamar changed locations and started shagging at a skanky-sounding motel called the Vagabond Inn when Khloe found them, started screaming outside the door and threatening to call the cops. Polina says: "Khloe charged into the room and began swinging at me… she tried to attack me! Lamar had to grab her by the hoodie and pull her back. She is way bigger than me. It was terrifying." Khloe told Polina she shouldn't be sleeping with a married man; Polina's response is that "he wan't even living at home with her." How any of this can possibly be true is a mystery; if Khloe got into a fight with a criminal attorney at a motel TMZ would be all over that shit. Next: Jennifer Aniston is "definitely not pregnant, although this same magazine called her a pregnant bride in April and also announced that she was pregnant in November of last year. Cough. Kendall and Kylie Jenner are having a "crazy summer" at a the family beach rental in Malibu; while mom Kris is away working on her TV show, the teens are inviting gentleman callers to sleep over, and neighbors hear rap music at all hours and keep finding teens passed out in the sand. Lawn. Mine. Off. Florence Welch is a "bohemian boozehound" who is about to get an intervention from her label. John Mayer is considering surgery for his "oversize" navel. No word on the David Duke dick. Miley and her father are in therapy together, because although her mom has taken him back, Ms. Cyrus still has issues. Mila Kunis and Ashton Kutcher might break up because she doesn't want kids right now. Lady Gaga is going to get married in Pennsylvania in the fall. And finally, Here's a quote from a story about Teresa Giudice possibly testifying against her husband: "In her mind, Joe did it all and she's innocent… She really doesn't want to go to prison." Something very GoodFellas about the whole thing.
Grade: D+ (arm wrestling)
---
Us
"KIM'S SECRET WEDDING"
If you have issues with Kanye West and Kim Kardashian living in sin, fear not: "A wedding is in the works," says a source. And apparently it's Yeezy who wants a lavish event: "Kanye has never been married before and wants a big wedding," claims a source who likely watched the "Runaway" video one too many times. Kim, on the other hand, wants to have something small and understated, but either way, like the revolution, the nuptials will not be televised. Meanwhile, KK has inked an endorsement deal with a diet company, so we all have that to look forward to. Her "friend" Jonathan Cheban tells the mag: "She'll be hot any day now." Side eye forever. Also inside: The relationship between Vanessa Hudgens and Austin Butler is "very serious" and "on the marriage track," which we guess is like a train track or actually, more like a monorail? Paula Deen turned down Dancing With The Stars because "the dancefloor is not the appropriate forum for her." There's a four-page piece about how Teresa Giudice's greed and need to keep up appearances brought her down, but we couldn't bear to read the whole thing. Finally, the story regarding the lady Simon Cowell impregnated informs us that she used IVF to have her 7-year-old son and didn't think she could conceive again. V-neck T-shirt supersperm to the rescue?
Grade: B- (thumb wrestling)
---
Addendum
Fig. 1, from Ok!
Fig. 2, from Life & Style
Fig. 3, from In Touch