To celebrate the culmination of the race between a woman and a man who once said being famous allowed him to grab women "by the pussy," the Washington Post hired a woman to wear a dress made out of napkins for guests to grab by the handful.
Ana Gasteyer Satirizes the Girl Boss in 'American Auto'
The woman who worked the casino-themed party was wearing another dress under the napkin dress, pictures show. But staffers were disturbed by the thematically, if not tonally, appropriate flourish.
The Huffington Post obtained a copy of an email sent out by Post Articles Editor Elizabeth Chang on behalf of 150 women and men employees criticizing the event:
"[The] napkin-wearing woman who was being disrobed by guests went beyond inappropriate to offensive to those those of us who resent seeing women continually being reduced to and offered as objects of men's sexual desires," read a Friday letter to Publisher Fred Ryan and Vice President for Communications & Events Kris Coratti.

"The fact that this happened at a Washington Post party at the conclusion of an election in which the issue of sexual assault played a huge role is upsetting and infuriating and counter to what we thought The Post stood for in this election," the letter read.

In Friday's letter, staffers also questioned if that sponsorship arrangement "alone seems a bit inappropriate, given the seriousness of election night and the decision that was made about the future direction of our country (not to mention that one of the candidates was a casino-owning mogul who likes to grab women by the crotch)."
G/O Media may get a commission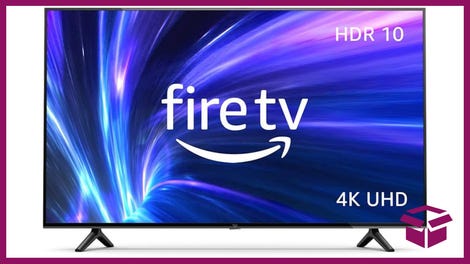 42% Off
Amazon Fire TV 50" 4K Smart TV
The event was thrown on behalf of the Post by MGM, which is opening a new hotel next month outside DC. In apologizing for the napkin dress, Vice President for Communications & Events Kris Coratti was happy to let the casino take the blame, saying the company would be more careful the next time it licenses its name to any old group.
"Going forward, be assured that even more scrutiny will be placed on the packages offered by our sponsors—before, during, and after each event. You will not encounter anything like this again," Coratti wrote.