Three humanities postgraduate students in India have parodied Carly Rae Jepsen's all-time popular song "Call Me Maybe," reworking the lyrics to mock the double standards and sexism engraved in Indian matrimonial ads, and ultimately, in marriages.
The original song gave us a girl who reversed essentialist gender roles by asking the guy she likes to call her; it's now been parodied into a faux matrimonial ad with an Indian mother asking for "tall, thin, fair girls" to "submit samples of your round chapatis" for her son. Titled "Be Our Pondati" (meaning "wife" in Tamil), the song's lyrics—such as, "Once you come into my house/ You will have no life/ 'Cause you'll be a wife/ You will have no, no life"—succinctly put the condition of women in traditional marriages in India to light. An Indian woman, on average, does 10 times the unpaid work as a man, leaving her out of the formal workforce, and with no time for leisure activities or other pursuits.
"Once you get married you have to put your ambitions, your friends or any social life you had on hold," said Asmita Ghosh, one of the two students who worked on the video's concept, vocals and lyrics. "Because that's the ideal wife in Indian culture." The mother in the parody is seeking exactly that: "In search of a homely girl/ Who will rock my son's world/ No Facebook, must not wear shorts./ Be a good pondati." The parody also highlights the sentiment common in society that expects women to bear children soon after getting married: "In no time at all/ You'll be making babies."
Created as an entry for a parody contest at an intra-college fest at the Indian Institute of Technology, Madras, the young artists didn't initially intend to make a social comment with their work. "When we were brainstorming about what to write, it was solely about what would be funny, and what would help us win," said Anukripa Elango, the other student responsible for its concept and lyrics.
Beyond its humor, though, it's hit a nerve that's clearly resonated beyond Ghosh and Elango's school contest. Since the video was published on YouTube, it's been viewed over 789,000 times, and the team is excited that they have started a conversation about gender inequality in marriages. Ghosh, who says both women call themselves feminists, said, "We didn't do it with a feminist agenda in mind... [but] those double standards stick out to us. It's a given that these things ought to be challenged, or objected to, because it is not okay to expect something from women, just because they are women."
G/O Media may get a commission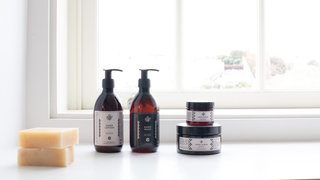 Exfoliate and Hydrate
The Handmade Soap Company
The feminist pop parody comes as a relief, especially considering that hugely popular songs in Bollywood usually drip with misogyny. For instance, "Love Dose," a recent song by the rapper Honey Singh, details a scenario in which a guy chases the girl, teases her—and then calls her father to say that since he is rich, he should give away his daughter to him.
A whopping 88.4% of all marriages in India are arranged via parents, and with this in mind, Elango is cautious of the offense the parody might cause. "We can all recall at least one couple that came together through arranged marriage, and are happy together," she said. "We are only commenting on the double standards within most arranged marriages."
The video, since published, has gone viral, the resonance of its message apparent in comments like, "OMG this is so true!" Krupa Varghese, the actor in "Be Our Pondati," said the popularity caught them by surprise, and that with it has come the typical share of online trolling. "Things they are saying are pretty horrible. Horrible, hateful things," said Elango, of some of the more derogatory, misogynist comments on their video.
Yet among the less trollish critiques were commenters who took the parody as an overall mockery of Indian culture. "We are not saying Indian culture sucks," said Elango. "We are not even saying Indian mothers-in-law suck. Sexism and patriarchy is everywhere. It is just that it exists differently in different places, and this is one way it exists here [in India]. Sometimes I feel I should take off my feminist cap, and put on my postcolonial cap. This isn't a rant against all arranged marriages, or anything that is quintessentially Indian," she continued.
Instead, the artists looked at real matrimonial ads in newspapers and websites for inspiration, a specific critique that based their parody on common words within them. "It was very obvious," said Ghosh, "because whenever they were looking for a woman, they described her looks, and when they were talking about a man, they were describing his education, or his salary. Obviously we noted this obsessiveness with how a girl has to look. And it said inevitably that she has to be fair—that 'looking for a fair girl.' We had this list of words that kept coming up, and then we built [the song] around that."
With lyrics like, "Our family's wealthy and large/ We have two Mercedes cars," the parody similarly draws attention to the tough standards of wealth that men in the society have to face. "One of the funniest ads, and one of our inspirations," said Ghosh, "Read, 'we have two accounts in two private banks!"
Despite the system they've critiqued, Elango is positive that the condition of women in Indian marriages in changing for the better. "With how much we are online, it gives us a place to talk about it," she said. Yet Varghese added, "The crowd that is accessing all of those things online are urban population who have access to a certain kind of thinking, and a certain kind of information dissemination. So for those class of women, you can say a certain kind of improvement has been made. But for a majority of the women, there is still a long way to go."

---
Shaifali Agrawal is an India-based freelance journalist, specializing in art, culture, and gender. Follow her on Twitter.