On Friday, The View's hosts discussed "manger mom," an 18-year-old mother who left her five-hour-old baby in a nativity scene inside of a Queens, New York church last month. Though some churchgoers want to adopt him, the mother might want her child back, a decision the The View gang weighed in on, unfortunately.
Ana Gasteyer Satirizes the Girl Boss in 'American Auto'
Last week, as has been reported by Newsday, the mother—who remains anonymous—told cops that she left the infant in the manger "because it was the warmest place in the church." The child was found by a janitor, who called church officials immediately. New York's Abandoned Infant Protection Act allows parents to leave a child 30 days or younger "with an appropriate person or in a suitable location where the parent promptly notifies an appropriate person of the child's location." Despite this, police said they won't be pressing charges against the mother.
In an interview with the New York Post on Friday, the mother, who is a recent immigrant from Mexico, said she kept her pregnancy a secret and only gained 10 pounds so no one—including her aunt she lives with or the child's father in Mexico—knew she was pregnant. She gave birth alone, too afraid to cut her son's umbilical cord. Then she left him at Holy Child Jesus Church because she'd attended services there before and "the people there are good." After laying him in the church's nativity scene wrapped in a towel, she prayed that he was warm enough and felt sure a priest would find him, even checking back the next day. Now she hasn't seen him since his release from a hospital, but she's unsure whether she wants her son back. Her family still doesn't know the abandoned child is hers.
On The View, it was clear that some people read their morning news notes and others, well, not so much. Joy Behar said she's seen "Christmas movies" where mothers leave their infants in mangers. Candace Cameron Bure joined in, arguing that the young mother is a Mexican immigrant who was probably very afraid, alone and thought about the same movie when abandoning her child.
G/O Media may get a commission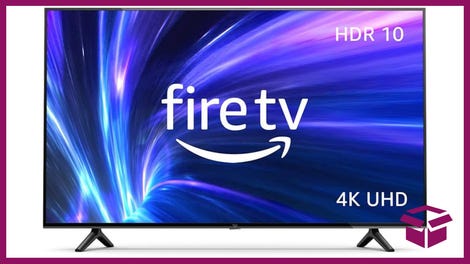 42% Off
Amazon Fire TV 50" 4K Smart TV
Raven-Symoné, shockingly, came in with the hot (bad) take. She assumed the mom had access to social media before abandoning her baby and therefore knew the consequences of sex and leaving her child alone in a church.
Joy pushed that the woman might've thought God would take care of the baby, which Candace seemed to agree with. Elsewhere, guest host Sara Haines pointed out that the child was so young its umbilical cord was still attached, "for me that baby's life is in your hands now" and said she was on the fence about the baby's return to its mother. Paula Farris pointed out that the child could've died because it was "cold" and parents who leave their children in safe spaces like churches, police stations and fire houses are required to contact the authorities, which the mother did not.
Joy countered that the mother probably wants the baby back now because, while she was ashamed of her pregnancy in the beginning, her family knows about her son now (according to the mother's chat with The Post, they do not). Candace added that the church could step in and give the young mother the help she needed in place of her unsupportive family, then demanded applause.
"You can clap for that!" she said.
Elsewhere, Paula—who pointed out that this story is why women's support centers are so important in making sure women don't feel alone—and Raven-Symoné were on the same side.
"She was negligent, don't give her her baby back, I'm sorry," she said.
Ultimately, much of The View's discussion was—as usual—based on speculation. It's impossible to know the mother's relationship with social media and her thoughts, other than the little that she's said. What is clear is the police aren't pressing charges against her, and she's likely having a difficult time whether she's ready to be a mother right now or not.
---
Contact the author at Hillary@jezebel.com.