On Sunday night, 24-year-old trainer Ethan Renoe went for a run in the rain during his stay in Chicago. As some men are inclined, Renoe chose not to wear a shirt during said run due to the inclement weather. A reporter for WGN stopped him to discuss both the weather and Renoe's shirtlessness, the latter of which afforded Chicago an aesthetically pleasing view. Renoe took this opportunity to announce that he is single, and now everyone is cuckoo bananas over the rain-slick athlete.
If you watch the above video, you'll note that Renoe makes a "call me" hand gesture to emphasize his romantic availability. And indeed, many have heeded him and eagerly attempted to reach out.
"I have about 900 friend requests (on Facebook) right now," Renoe tells WGN in a followup interview on Monday. He was due to return home to Colorado the same day, much to the chagrin of Chicago's female population.
But wherever you are ladies, pay heed: according to TMZ, "the recent grad of Moody Bible Institute" is "serious about finding himself a woman," but he'll be keeping things PG until a special gal puts a ring on it. Renoe "says he's still going to wait for his honeymoon to tear up his v-card." (No funny business, Olivia Culpo!)
In the meantime, Renoe is still reeling from the whopping impact of a short, shirtless interview. Regarding the video, he admits to WGN that "I came back from that run thinking a couple people would have a little giggle out of it, and I come back and it already had 24,000 views." Now the clip has been viewed 2.1 million times.
G/O Media may get a commission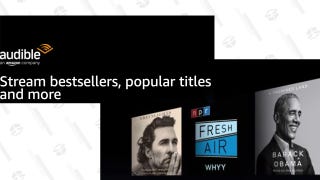 FREE
Audible Premium Plus 3-Month Free Trial
What can I say? Life is short and bleak, and beauty one of our greatest comforts. Why the hell not appreciate some hot abs?
In addition to exercising in a state of undress, Renoe purportedly enjoys photography, nannying, and teaching, among other things. And if, ahem, you'd like to call him maybe, you can reach him on Facebook or Twitter and check out his blog.
Jezebel dot com is now a dating service, in case you were wondering.
---
Contact the author at rachel.vorona.cote@jezebel.com.
Video via YouTube.