I wasn't sure what to expect from the The Unauthorized Melrose Place Story. While there were plenty of trashy plotlines throughout the series' seven seasons —evil alter egos, cults, murder plots and stolen babies—I couldn't recall the show actually having an offscreen villain, à la Beverly Hills, 90210's Shannen Doherty. Still, I was more than ready to see a dramatic reenactment of the infamous scene in which Marcia Cross as Dr. Kimberly Shaw pulls off her wig, revealing a totally gnarly, post-car accident scar.
The movie opens with a Fox network party celebrating the success of 90210. Dan Castellaneta and Adam Korson reprise their roles as Aaron Spelling and Darren Star, respectively, from last week's The Unauthorized Beverly Hills, 90210 Story. The two discuss an idea of a new show which would revolve around single hotties living in the same apartment building in L.A.
After the show is greenlit, casting begins and we learn which other now-famous actors were considered for the roles. Courteney Cox could have played Allison Parker, which instead went to Courtney Thorne-Smith (Rebecca Dalton.) Paul Rudd, Jason Bateman and Matthew Perry were all considered for Billy Campbell, but a Canadian actor named Stephen Dale gets the part. There's also a reference to the confusion between Melrose Place Vanessa Williams and Vanessa "Saved the Best for Last" Williams. Darren and Aaron suggest a, gasp, gay character to Fox. "It's good to court a little controversy," Mr. Spelling says. "Twenty years from now, being gay is going to be like owning a station wagon!"

The cast meets each other on their Santa Clarita set. Amy Locane immediately name-drops her Cry-Baby co-star, Johnny Depp. "Sleep is overrated, that's what Johnny told me," she casually slips into a conversation with her new castmates. She then says something about "a lot more happening off-camera" and I realize I want Lifetime to make Unauthorized biopics of all of John Waters's movies. Another Cry-Baby alum, Traci Lords, played a crazed cult member in Melrose Place's third season, but she unfortunately does not appear in this movie.
During filming, Stephen Dale opens up his shirt to reveal a flabby stomach, which is a sacrilege in the land of Melrose Place. According to this movie, he went back to Canada to visit family and gained some weight. I wait for a joke about poutine, but alas, nothing. Stephen is FIRED! They need a new Billy Campbell. Tori Spelling (Abby Ross) comes to the rescue again when she suggests Andrew Shue (Frank Bailey) to her father. Shue is the brother of Elizabeth "Adventures in Babysitting" Shue as well as a soccer player, so he's got to have the six-pack abs required for the role.
G/O Media may get a commission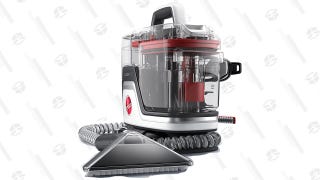 Save $10
Hoover CleanSlate Plus Carpet & Upholstery Cleaner
When it came to the actors portraying the Melrose Place cast, one of the only actors who looked convincing was the guy who played Doug Savant (Joseph Coleman). Faux Josie Bissett (Chloe McClay) looked pretty spot-on as well. Like Beverly Hills, 90210 before it, Melrose Place doesn't kick off with good reviews. It's already time to bring in some fresh blood. Darren asks his college pal Daphne "Spaceballs" Zuniga (Ali Cobrin) to join the cast in the role of Jo, a mysterious photographer from New York.
There's also talk about a "secret weapon" of Spelling's, one that will bring Melrose Place to the level it needs to be at. "If it's Joe E. Tata, I'm going to be furious," jokes Darren. Nat from the Peach Pit joke! Spelling has some great lines. "Make success your Trojan horse," he advises to Darren. "I snuck through the gates with Charlie's Angels and Dynasty. I couldn't do a movie about AIDS without three braless women fighting crime." This is where I realize what I liked most about the 90210 movie and maybe the only thing I really like about this one: the bromance between Aaron Spelling and Darren Star. I kind of wish Lifetime would just make a series about these two.
Marcia Cross (Teagan Vincze) and Thomas Calabro (Brandon Barash) are in makeup, being snobby about their theater acting experience. "Let's show these models how real actors do it," he says, then grabs Marcia's hand and bites it, which is confusing. Grant Show (Ryan Bruce) talks about turning down a movie called Thelma and Louise and mentions "some nobody" they replaced him with. That "nobody" is Brad Pitt, who was also referenced in the 90210 movie.
Everyone's whispering about a mysterious newcomer, a.k.a. Spelling's secret weapon. "It must be someone big, like Billy Ray Cyrus big," one of the cast members says. Enter, Heather Locklear (Ciara Hanna). "Did somebody order a bitch?" she asks to nobody in particular. This is when you think things are going to finally get exciting around here, but Heather was no Shannen.
With all these hotties on one set, it's not surprising to learn there were several cast romances. Courtney and Andrew date at the beginning of the show, but later break up. When Laura joins the cast, Grant immediately sets horny eyeballs on her. They also part ways, but at some point, Laura and Doug get married and have kids. That's nice and all, but I am extremely disappointed at the lack of behind-the-scenes drama going on here!
Now it is time for my Lifetime movie wig review. At first, I was impressed by the wigs and was happy to see they had a decent hair budget. Then in the Rolling Stone photo shoot scene, I noticed Courtney's 'do literally resembled this angry baby meme. However, the true victim of all this was the fake Tommy Lee. He receives the award for worst wig in the history of Lifetime's Unauthorized film canon. It seriously looked like roadkill.
At the end of this snoozefest, Darren, who has sadly moved on from his bromance with Aaron, is living in New York. He's at a cafe when he spots four women walk by who resemble the Sex and the City cast. Could this be foreshadowing that Lifetime will indeed go there and make an Unauthorized Sex and the City? Let's hope so. I would kill to see a bootleg, bad-wigged Sarah Jessica Parker.
---
Contact the author at marie.lodi@jezebel.com.
Image via Sergei Bachlakov/Lifetime.