For the most part we are all grown women with grown women skills and grown women tastes in a whole variety of grown women things. We all probably drink wine, talk about books and have maybe even gone to see a Wilco concert or two, so, with that preamble out of the way, let me ask you — have you paid much attention to the adorable scamps of One Direction?
Sure, you probably know that they're a British boy band marketed towards tween girls rather than grown ups like us, but have you taken the time to notice that they're also the freaking cutest? Watch their "Kiss You" video and try not to smile. It's impossible! Or check out this Buzzfeed article about how in love with one another they all are and then decide whether you want to mother them or teach them somethings between the sheets. (Weirdly, you'll probably want to do a mix of both.)
Keep digging deeper into the One Direction archives, however, and you'll also find — in addition to the fact that these boys touch each other's penises very often — that, collectively, the members of One Direction have a lot of tattoos and the majority of them are terrible. These are the worst.
---
G/O Media may get a commission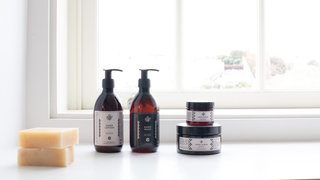 Exfoliate and Hydrate
The Handmade Soap Company
Harry Styles
Harry Styles, 19, is perhaps the most famous of the group, primarily because of his purebred Cocker Spaniel good looks and the fact that he briefly dated Taylor Swift. In old-school boy band terms, he is considered to be the cute one.
Styles has at least twenty-four tattoos, all of them awful and many of them looking like generic notebook doodles that you would find on Shutterstock. Pictured above you'll find his fugly ship tattoo (that was maybe referenced in the Taylor Swift "I Knew You Were Trouble" video). You can also see his tragedy and comedy mask tattoo, his tattoo of a birdcage and something that looks like a cupcake wearing a beanie.
Below you see his tattoo of a star outline and the words 'Won't stop till we surrender." He has many more bad tattoos that aren't pictured (the outline of a wire hanger, the word 'hi'), but cataloging them all would take all weekend.
---
Liam Payne
Liam, also 19, is one of One Direction's more withdrawn members. His terrible tattoos aren't too plentiful, but they plenty terrible.
This cheesy arm tattoo reads 'Everything I ever wanted, but nothing that I'll ever need' and is supposedly about his family and bandmates. Whatever, I have a lotus tattooed on my lower back that's supposedly about expanding my wisdom so who am I to talk.
Liam at least seems to have some concept of spacing and why it's important to get your tattoos done by a professional.

---
Niall Horan
Niall is 19 and definitely shyest member of the group. (Still that doesn't mean that he isn't game for a nuzzle.) He is also the only one with no confirmed tattoos. There are a lot of fake photoshopped images out there of him with ink, but don't be fooled.
---
Louis Tomlinson
Louis, who at 21 is the only 1D member old enough to drink in the U.S., is considered the funny one of the group. He also has the ugliest tattoos of them all though, luckily, they're mostly very small.
I don't know — there's a tea cup, a stick figure riding a skateboard with the word 'oops' and a compass. Louis, you're a 21-year-old millionaire and all of your tattoos look like stick-and-pokes. Also, in two years when you start rapidly aging, all of those tattoos are going to run together. That said, I love you/have a nice summer/don't ever change.
---
Zayn Malik
While you might think that Harry Styles is the One Direction prize pony, 20-year-old Zayn, the wild and outgoing one, might actually give him a run for his money, but sadly, he also gives him a run for his money when it comes to huge ugly, tattoos.
Zap.
Fingers crossed.
The mic that can never be dropped.
---
And those are the worst tattoos of your baby boyfriends in One Direction!