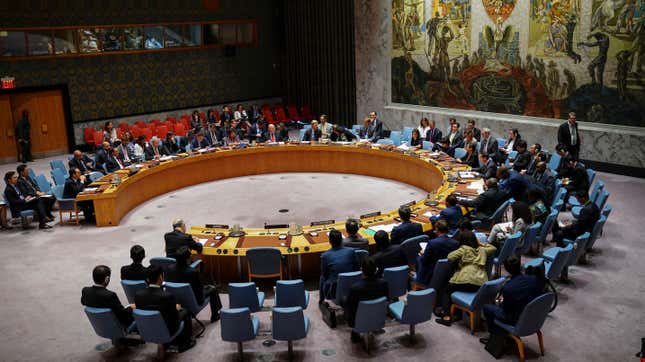 The United States is threatening to veto a U.N. resolution that would prevent rape from being used as a weapon of war on account of language that refers to reproductive and sexual health.

Joining our new pals Russia and China, The Guardian reports that our blessed nation has helped strip the draft resolution "of one of its most important elements, the establishment of a formal mechanism to monitor and report atrocities:"
"Even after the formal monitoring mechanism was stripped from the resolution, the US was still threatening to veto the watered-down version, because it includes language on victims' support from family planning clinics. In recent months, the Trump administration has taken a hard line, refusing to agree to any UN documents that refer to sexual or reproductive health, on grounds that such language implies support for abortions. It has also opposed the use of the word "gender", seeking it as a cover for liberal promotion of transgender rights."
A draft of the resolution seen by The Guardian indicates that the U.S. has taken issue with a clause that "urges United Nations entities and donors to provide non-discriminatory and comprehensive health services, including sexual and reproductive health, psychosocial, legal and livelihood support and other multi-sectoral services for survivors of sexual violence, taking into account the specific needs of persons with disabilities."
The U.S., though, has determined that "sexual and reproductive health" is actually just shorthand for "abortions," and has taken a hard stance against supporting any effort that might allow women to obtain those services. Never mind that the U.N. itself has defined reproductive health as "a state of complete physical, mental and social well-being, and not merely the absence of reproductive disease or infirmity." The U.S. has made it abundantly clear that it's much more interested in moralizing than it is in actually helping women, even women who have survived unspeakable acts of violence.
The resolution was under consideration during a special UN security council session on sexual violence in conflict. Now, it's unclear whether it will be adopted at all. In the past, disagreements within the security council have defaulted to previously agreed-upon text, but that's out the window now that the U.S. has decided it will no longer accept language from a 2013 resolution on sexual violence.
"They are threatening to use their veto over this agreed language on comprehensive healthcare services including sexual and reproductive health. The language is being maintained for the time being and we'll see over the next 24 hours how the situation evolves," said Pramila Patten, the U.N. special representative on sexual violence in conflict.
"It will be a huge contradiction that you are talking about a survivor-centered approach and you do not have language on sexual and reproductive healthcare services, which is for me the most critical."