Wow, look how far we've come. It seems like just yesterday we were watching Donald Trump go beep-beep in the big boy truck. Now he's put on his little adventuring pants for his first big international trip since he assumed the presidency, a nine-day overseas journey beginning in Saudi Arabia.

The expedition began on Friday, with Trump and Melania bidding Sith Lord Mike Pence farewell at the White House. "Remember, only grope the hot staffers, okay Mikey?" Trump probably instructed before grabbing Pence's shoulder and shaking him like a rag doll.
There they go! Pence beamed from behind a tree as they trudged across the lawn, his face filled with the same blend of relief, pride and fear that every parent feels when their fragile, incompetent child leaves the protective cocoon of the homeland to go bumble about the Middle East.
But Pence and the American people were surely far from Trump's mind when Air Force One touched down in Riyadh 14 hours later. Trumpets blared, canons boomed, and images of Trump were projected on every available surface—precisely the sort of reception Trump feels he deserves in any context, be it at one of his oft-occurring rallies or whenever he re-emerges from the West Wing bathroom.
G/O Media may get a commission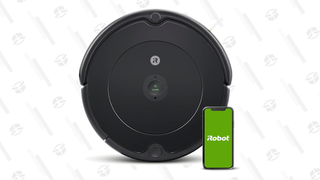 35% Off Black Friday Deal
iRobot Roomba 694 Robot Vacuum
Such a warm welcome might seem strange—just last year, Trump painted the Saudis as a people who "want women as slaves and kill gays," in addition to blaming the country for 9/11. But the kingdom's leaders, who harbored contempt for Obama following the Iran nuclear deal, are willing to look past those barbs if it means establishing a firm alliance with America. As Trump will certainly point out in a tweet any minute now, King Salman greeted Trump and Melania on the tarmac, an honor he did not bestow upon Obama.
On their arrival, the press quickly seized on the fact that Melania's hair went uncovered, a perfectly common practice among visiting first ladies. This, of course, wouldn't have mattered if Trump hadn't lost his shit over Michelle Obama failing to cover her head during her own trip to Saudi Arabia in 2015.
Trump also received the Collar of Abdulaziz Al Saud Medal at the Royal Court Palace—the nation's highest honor. Obama received the same medal in 2009 and was immediately eviscerated by the right-wing media for having bowed, a gesture perceived as "American weakness." Plenty of outlets are saying that Trump bowed, too, and maybe even...curtsied? Take a look:
Honestly, that initial lowering doesn't resemble a bow as much as it does a tall person stooping so that a shorter person can comfortably slip something over their head. Whether that movement at the end was a curtsy or an attempt by a moribund, chicken-filled old man not to fall over is not clear.
But even if it was a bow, a little extra knee-bend is nothing that can't be overlooked in the face of a new arms agreement signed on Saturday, in which the White House promised to provide the kingdom with $350 billion in U.S. weapons over the next decade. Really looking forward to seeing what the next eight days bring! Also, Trump, if you're reading this: Don't come back.