The Jeff Bezos sexting and dick pic saga, a line that brings me little joy to type as we slog through 2019, is continuing. It now appears that it was Michael Sanchez, the brother of Bezos's girlfriend Lauren Sanchez, who sent the texts to the National Enquirer, according to people who work for the tabloid's parent company. It would certainly be a strange thing to do for a brother who has previously called his sister his "best friend since birth" and is his sister's manager and publicist, but what do I know of their relationship!

Sanchez, who previously worked for MTV as its director of sales and marketing and is described by the Washington Post (which Bezos owns) as a "pro-Trump Hollywood talent manager who is also an acquaintance of provocative Trump backers Roger Stone and Carter Page" and a "typical West Hollywood gay man" by LGBTQNation (which notes he and his husband dressed as handbags for Halloween in 2017), has denied that he was the leaker and insisted to the Post that he wants "to clear my name by telling the truth." He also told the Post that several people at the National Enquirer's parent company, American Media Inc., told him that the tabloid wants to do "a takedown to make Trump happy."
Several sources within AMI told the publication that Sanchez was the leaker. More from the Daily Beast:
Documents reviewed by The Daily Beast show that Michael Sanchez believed the Enquirer pursued its story about Bezos with "President Trump's knowledge and appreciation"—a chase encouraged, in Sanchez's estimation, by Republican operatives "who THINK Jeff gets up every morning and has a WaPo meeting to plot its next diabolical attack on President Trump."


No one who spoke to The Daily Beast implied that Michael Sanchez in any way hacked his sister's phone, and he has not been charged with any crime. In fact, three people familiar with the Bezos-funded probe told The Daily Beast in late January that it had found no evidence of a hack. However, Bezos' investigators have strongly suspected Sanchez was the leaker since at least last week, according to two people familiar with the investigation. "There is no one inside this inquiry process who doesn't believe he's ground zero," one of those sources said.
In email exchanges with Bezos's private investigator Gavin de Becker earlier in January, Sanchez offered up some theories as to how the texts could have been revealed, including that they were the work of "deep state" operatives in the U.S. government:

In a Jan. 21 email to de Becker, Sanchez offered a "brief summary of the info I gathered from Carter [Page] and Roger [Stone]" and included links to news articles that outlined the National Security Agency's ability to collect metadata on phone calls.

Both de Becker and Sanchez at various points theorized that government or foreign hacking could have been behind the leak of Bezos's texts, according to email and text exchanges between the two. Sanchez discussed with de Becker a theory in which Trump might have enlisted the help of British intelligence or the Israeli Mossad.
G/O Media may get a commission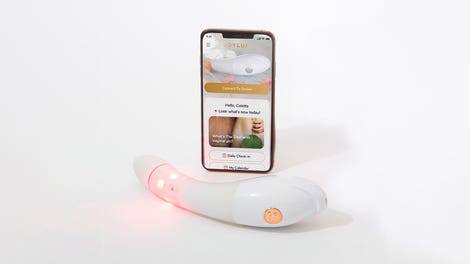 $50 Off
Joylux vFit Gold Device
At the end of January, Sanchez then accused de Becker of spreading "fake, unhinged conspiracy theories":
As for Sanchez's connections to Roger Stone and Carter Page, here's more from the Daily Beast:
Stone confirmed his association with Sanchez in text messages with The Daily Beast on Wednesday evening. "I do know Michael Sanchez—very good guy," he wrote. Stone proceeded to deny that he hacked Bezos' phone. When The Daily Beast pointed out that it had never suggested or asked if he had, Stone replied, "You are busted. You are not a journalist. No one believes anything you write."

According to documents reviewed by The Daily Beast, Stone and Sanchez were in touch about the National Enquirer story in the days after it ran—and in the days before Stone was arrested by the FBI and charged with seven criminal counts related to the federal investigation into Russian meddling in the 2016 presidential election.

Those documents show that Sanchez was also in contact with another figure caught up in the Russia investigations, former Trump campaign foreign policy adviser Carter Page.

Page told The Daily Beast that he and Sanchez have a personal and professional relationship. "Michael is a friend and his agency, Axis Management, has represented me in the past," he said in a text message. Page also said that Sanchez had "arranged my appearance at Politicon in L.A. last October." Page declined to go into further detail when asked about the last time that he spoke to Sanchez.
Was Sanchez the leaker? Is he just a convenient fall guy? Am I a conspiracy theorist now? 2019, y'all!