The Department of Homeland Security and immigration officials have separated hundreds of children from their parents at the U.S. border since last October—at least 700, according to the Department of Health and Human Services—and the number is only going to increase, according to the Trump administration.
As reported by the Washington Post, the Justice Department says it now plans to prosecute of every single person who crosses into the country along the Southwest border without authorization. On Monday, Attorney General Jeff Sessions told attendees at the Association of State Criminal Investigative Agencies in Scottsdale, Arizona that DHS will refer such cases to the Justice Department for prosecution to "take on as many of those cases as humanly possible until we get to 100 percent."
No exceptions will be made for parents, he continued (emphasis mine):
"If you cross this border unlawfully, then we will prosecute you. It's that simple. If you smuggle illegal aliens across our border, then we will prosecute you. If you are smuggling a child, then we will prosecute you and that child will be separated from you as required by law. If you don't like that, then don't smuggle children over our border. If you make false statements to an immigration officer or commit fraud in our system to obtain an immigration benefit, that's a felony. We will put you in jail."
By way of preview of the policy, and how it would impact families, a DHS official told the Wall Street Journal on Monday: "The Attorney General directed the U.S. Attorney's offices to adopt a zero tolerance policy for all offenses referred for prosecution."
More from WSJ:
Most of the adults who cross with children come from violence-ravaged Central American countries of Guatemala, Honduras and El Salvador and are seeking asylum in the U.S. Under the new policy, adults will still be able to apply for asylum, but they may be detained while their cases are considered. Children will be treated as if they had arrived in the U.S. without an adult. Unaccompanied children from countries other than Mexico and Canada are placed with family or in shelters while their cases are considered by immigration courts, a process that can take years.

Under current policy, many families are released whole while their asylum cases are processed.
G/O Media may get a commission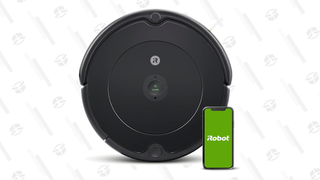 35% Off Black Friday Deal
iRobot Roomba 694 Robot Vacuum
The news arrives just days after a harrowing report from Reveal uncovered that Immigration and Customs Enforcement (ICE) has been using dental and bone scans to place immigrant minors into adult detention facilities, even though it's considered a "last resort," in their handbook and has been denounced by Congress and immigration advocates.
Make no mistake: This administration does not give a shit about the well-being of children.