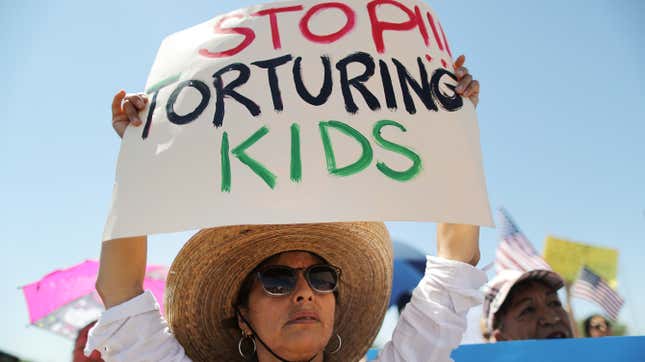 Migrants at the border are facing increasingly nightmarish scenarios—sleeping on concrete and housed in centers with four showers for hundreds of people. The story of Sofi—a 3-year-old Honduran girl who was asked by Border Patrol to choose between her parents—is just one more example of how Trump-era policies are creating ever-crueler opportunities for separating migrant families. This story is so draconian, it's ripped from a Holocaust movie.
Betsy Wolfe Reveals the 'Most Embarrassing Thing That's Ever Happened' to Her on Stage
Sofi and her family arrived at El Paso in April from Honduras and were told to stay in Ciudad Juarez as part of the Trump administration's Remain in Mexico policy, which requires migrants to stay in Mexican border cities as their asylum cases in the U.S. move forward. (Because the U.S. immigration courts are so backlogged and Mexican shelters so overcrowded, some families are risking the potentially fatal journey of swimming across the Rio Grande.)
On Monday, NPR reported that a doctor had examined Sofi and found that she had a "very serious" heart condition. The family's lawyers suspected that Sofi had at some point had a heart attack, and asked that their clients be allowed to stay in the U.S., so Sofi could receive treatment.
But after Sofi's check-up, Border Patrol reportedly decided to permit only one parent to stay with her—and forced the child to choose which one. Reporter Bob Moore explains in a radio segment for NPR:
"So at that point, according to the family, the Border Patrol agent they were with said, 'Okay, one parent will go back to Mexico then, and one parent will keep the kids and be allowed stay in the United States.' The agent then turned to three-year-old Sofi and told her to make a choice: which parent did she want to go with?"
Remain in Mexico already puts families at risk of extortion and kidnapping—but Sofi's story hits a new kind of low. There's an obvious, eerie connection with Sofi's situation and the Holocaust movie Sophie's Choice, where Meryl Streep's character must decide which one of her two children lives—although thankfully, the real-life Sofi's case is not so overtly ghoulish. Her story shows how agents are not only reckless with the physical safety of families bearing the brunt of their policies, but also willing to place children under intense psychological harm. It's just one example of the many forms that family separation can take.
Thankfully, this story has a happy ending for now: after doctors intervened on their behalf, the family was able to stay together in the U.S. But the agents who interacted with her family reacted to her distress while initially making a decision with extreme callousness. In NPR's radio segment, Moore says Sofi asked to stay with her mother, but upon realizing she would not be able to see her father anymore, Sofi and her two siblings started to panic:
"The border patrol, according to the family, told Sofi, 'Why are you crying, you told you picked your mother.'"
If nothing else, it's just one of the many kinds of cruelty border patrol agents have likely seen under their watch.