What's the line between a consensual BSDM relationship — one party as master, another as slave — and a "brutally tortured sex slave"? Probably when the FBI says that the woman is mentally disabled and tried to escape.
According to federal prosecutors, in 2002, a sixteen-year-old "mentally deficient" woman who had grown up in foster homes was invited to live in a trailer with Ed Bagley of southern Missouri, who allegedly promised her she would be a model and a dancer. Over the years, he gave her drugs and sexually abused her, and when she turned 18, prosecutors say, he "started to sexually torture her and persuaded her to sign a 'sex slave contract,'" tattooing her with three marks of her slave status.
According to The Wrap, authorities were tipped off last year when the woman suffered a cardiac arrest after suffocation and electrocution, one of many sessions that "allegedly included a long list of violent acts over the years: beating, whipping, flogging, forced abortions, choking, caning, skewering, drowning, mutilation, hanging, caging, shocking, stapling and sewing."
Bagley did live up to his promise to make her a model: in July 2007, the woman appeared on the cover of Taboo magazine, a fetish offshoot of the Hustler empire. The photographer, who was later questioned by the FBI, told The Wrap, ""They actually seemed to be quite a lovely couple … if anything he was going out of his way to make sure she was as happy as possible. I was very shocked to see the government had any issue with them at all." He said he saw no signs of coercion or mental impairment.
The FBI also interviewed Taboo's editor, Ira Levine, who is married to Nina Hartley. If both testify that they saw no reason to doubt the woman's consent and mental capabilities, The Wrap's Hunter Walker writes, they probably won't face criminal charges, though the woman could bring civil charges against them.
G/O Media may get a commission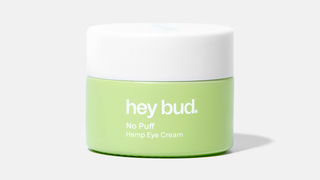 15% off
Hey Bud - No Puff Hemp Eye Cream
In addition to Bagley, four other local men who allegedly paid him for "cash, cigarettes, computer hard drives, meat and other items to Bagley so that they could be involved in torture sessions and sex acts with the woman" could be convicted of commercial sex trafficking, among other charges. Conviction on that charge alone would mean 15 years to life in prison.
FBI Questions Hustler Editor, Photographer in Sex Slave Case [The Wrap]
Mo. Man Accused Of Keeping Woman As Sex Slave [AP]
Image Via The Wrap