It's hard to know what to make of Tamara Mellon. On the surface, she's a cunning businesswoman with the savvy to serve simultaneously as a brand figurehead. Or, possibly, a cunning brand figurehead with the ability to appear business-savvy.
Warning: There is NSFW imagery towards the end of this post.
Everyone knows the story's broad strokes. Young, ambitious, rich girl happens across talented but undercapitalized Malaysian cobbler, buys cobbler's name, opens stores, turns cobbler into brand. After earning half a fortune she marries well, divorces messily, and cuts ties with the cobbler after hiring away his talented designer niece. Rich lady continues her happy way to business triumph, via branded collaborations with H&M ($300 leather boots) and Hunter ($395 rubber boots) and Uggs ($795 monstrosities). So the self-promotion is a little obnoxious and one almost feels bad for the cobbler, but you want to root for her when she says unvarnished things like, "I will never be dependent on a man. I will never be dependent on a husband or a boyfriend or a father. That's one thing that's really important to me." It is important. Good for her.
And the numbers are truly impressive. Staggering, even: Mellon turned a £150,000 1996 investment in a bespoke shoemaker named Jimmy Choo into a company that Lion Capital paid $187 million for a majority stake in in 2004; when Lion sold the shoe brand to TowerBrook Capital Partners LP in 2007, it was valued at $364.5 million. (Choo, for his part, cashed out his 51% stake in 2001 for just $10 million, and had to license back his own name from Mellon. He still runs his bespoke cobbler business under the brand "Jimmy Choo Couture.")
Mellon successfully fought a hostile takeover from her then-C.E.O. in 2007. She survived marriage to and divorce from venture capitalist, ex drug addict, and banking heir Matthew Mellon II. (He hired a company to hack into her e-mail account via a Trojan keylogger.) Mellon likes to tout her work ethic, too: she was a shop assistant at the department store Browns before working in fashion P.R. in London, and in the early 90s became an accessories editor, first at Mirabella and then at British Vogue, where she came across Choo's shoes, and when she wanted to buy into the company, Choo and the aforementioned niece, Sandra Choi, "nicely suggested" that she actually work in the footwear industry first. So she did. Mellon was then only in her early 20s. And even when the deal was struck, after her father's money and guidance as chairman had been secured, running things can't have been easy. "I had to go out to shoe factories in Italy with no shops, no track record, only a handful of designs and persuade men to do business with me, a young woman. Sometimes, I was horribly let down," she says.
G/O Media may get a commission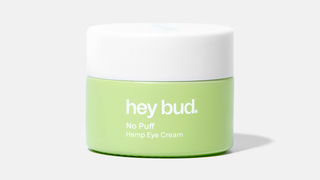 15% off
Hey Bud - No Puff Hemp Eye Cream
Then there's the stuff that makes you wonder. The rumors that her father, Tom Yeardye, owed his start in business to underworld connections with the infamous London gangster twins — and convicted murderers — the Kray brothers. Mellon, born into privilege — though she went to Eton's sister high school, her highest qualification her graduate certificate from the same finishing school Princess Di went to, in Gstaad — prices her products like a woman who's never learned the value of a dollar, or had to. (She brags about how her stint working retail left her in debt to Browns, because her lust for Vivienne Westwood and Gucci was just that strong.) The fact that her own infidelities contributed to the breakup of her marriage, and that her past drug use (she met Mellon at Narcotics Anonymous) made the impact of drugs on their fitness as parents pretty much a wash, didn't stop her from decrying his parenting on the witness stand when suing for custody of their young daughter, Araminta. (She and Mellon were given shared custody.) One rather gets the sense that she'd throw anyone under the bus for a buck. She sued her mother for $9.5 million when their family trust sold its stake in Jimmy Choo to Lion Capital, and some shares were (apparently accidentally) transferred into Ann Yeardye's name. (According to the deal, Mellon was to get the shares, her mother was to get the cash.) Now that the court has ruled in her favor, Tamara Mellon is off giving interviews where she says things like this:
"The last few years have been really challenging. It's very difficult for people to understand mental illness. That's actually why I'm starting to work with a charity called Providence Projects, which is for people who have mental illness in the family...I had my therapist with me during the trial because it was sobering to deal with the dishonesty and the betrayal, and he actually sat in a room with my mother at one point and came out of the room and said, 'Tamara, I can tell you what is wrong. Your mother is a sociopath — that is what you've been dealing with.' And then, when I looked up the definition of a sociopath, it all made sense."
And gets her photo taken like this:

And the more or less pointless ruthlessness and venality of it all ($800 Uggs that have "the DNA of Jimmy Choo"?) just gives one this involuntary reaction of disgust.