Jeans have gone from from workwear, to rebelwear, to wear-anywhere. They are the universal empty point around which a wardrobe is calibrated. And while they are manufactured in more sizes, styles, and washes than ever before, jeans shopping is hell.
Nobody knows precisely when or for what reason human beings started dying cotton with indigo, milling it into serge twill, and sewing the resulting fabric into pants, but we have some ideas. The word denim entered English from the French serge de Nîmes, woven serge twill from Nîmes, the southern French town that milled dyed warp threads and white weft threads into what came to be known as denim — along with making fine silks, wools, and many other kinds of fabric — from the Middle Ages on. Jeans comes from French, too: during the Renaissance, indigo dye was imported into southern Europe via Genoa, and the shade became known in French as bleu de Gênes. By the 17th Century, the English were familiar with both denim and blue jeans.
In the 19th Century, the denim center of gravity shifted to the U.S. by way of Mitteleuropa when immigrants Jacob Davis and Levi Strauss added rivets to denim work pants and patented that innovation, respectively. Then there was a California gold rush, and James Dean, and Marlon Brando, and pre-shrinking, and Gloria Vanderbilt, and Yves Saint Laurent said the only piece of clothing he wished he could have invented was blue jeans. And now, having shed any but the most abstract and romantic connotation of workwear, jeans by brands you've barely heard of go for hundreds of dollars in boutiques. We are in the age of Premium Denim. Jeans are ubiquitous and precious and I, for one, feel all sartorially out-of-whack if I don't own a pair I can count on.
In November, I lost a treasured three-year-old pair of Lee's at the laundromat. That their Lycra had recently begun its death rattle, and therefore their ability to hold their shape was becoming less reliable, did little to cushion the blow. Sure, I had always been ambivalent about these jeans' slightly low rise, their sewn-shut front pockets, and their extremely skinny cut — did I really have to end the day with twill weave impressed into the skin of my knees? — but these were pants that had lived and traveled with me, fit me and flattered me, and which happily bore the marks of my body and all its demands. They worked, and they were taken too soon.
And, worst of all, that meant shopping for replacements. I've never been the kind of person to have many pairs of jeans. It's very simple: I just need one pair, that fits. (Should I ever become wealthy, where jeans are concerned I imagine I could very easily become like those rappers on Cribs or those rich women in Vogue who keep multiples of the same sneakers or lipsticks "on ice.")
G/O Media may get a commission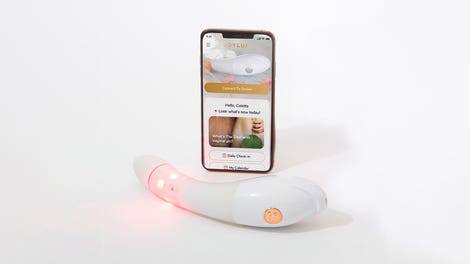 $50 Off
Joylux vFit Gold Device
Jeans shopping is uniquely tortuous in part because, unlike, say, a dress, you do not try on jeans in a mood of expectant surprise. When I am wrangling cut-price Helmut Langs in Loehmann's common dressing room, I am not hoping to be surprised by a unique cut, an "interesting" pocket placement, an unusual silhouette, or anything asymmetrical. I want to pull them on and think nothing more complicated than these are jeans.
Like all mature technological forms a good pair of jeans practically disappears on your own body. The design elements are all so very correct that you cease to notice them entirely. You can own a dozen dresses and each can flatter in a different way, but with jeans the hunt is basically for a five-pocket Platonic ideal that doesn't have any of the embarrassing bleaching the denim industry calls "feathering." It's a wriggling, writhing, humiliating nightmare of a search. The perfect jeans are absolute. They could as well be expressed in a mathematical equation where M is rise and C is waist size and X is inseam and B is fly depth. I bet if there were more women mathematicians, there'd be one. And we would all benefit.
And of course the perfect jeans are also incredibly subjective. Everyone's body and tastes are different, and what works for one won't work for another. What I want in a pair of jeans is, I think, relatively simple: as someone with wide hips and a small waist, a higher rise fits better. I want a cut that is as tight as possible in the hips and thighs, but falls straight through the knee and lower leg. (The puddle of fabric that skinny jeans deposit around their wearer's ankles has never been my thing.) I want no elastane, because elastane fibers have a shorter lifespan than cotton, and while a bit of stretch certainly makes jeans fit better and more comfortably at first, Lycra's eventual breakdown guarantees bagginess in high-traffic areas — sagging knees and seat. And given the reality of jeans shopping, I play the long game. I don't want to be repeating the hunt any sooner than I have to.
I tried all the discounters — Loehmann's, Filene's Basement, Daffy's, even the tourist-infested hellscape of Century 21. I did the big chains — Levi's, Gap, Express, Uniqlo, Madewell, H&M, American Apparel (hey, I was just looking). I even braved boutiques, since the right shop assistant with the right knowledge of brands, styles, and sizes can make even a Herculean quest manageable. But while I do fear never finding the right jeans, perhaps even more I fear finding the right jeans and discovering that they cost $189. So I concentrated on the steeply discounted, poorly run, needle/haystack stores that have long accepted my custom with near-total indifference. I wriggled unsuccessfully into Alber Elbaz's collection for Acne, and Hussein Chalayan's for J Brand. I tried APC, Hudson, Rock & Republic, Silver, Lucky, Paige, William Rast — the "designer" denim market exploded during the first decade of this century, when the industry had more money than sense. I looked at Goodwill, the Salvation Army, and all the vintage stores I could find. I dug through bins at Barney's New York's warehouse sale, and got excited when I unearthed pair of high-waisted Rag & Bones in dark periwinkle for $90. Their shirtcloth-lined waistband was soft and non-binding (Patrick Robinson also uses this technique at the Gap), but even at the time I knew their high elastane content marked them as a temporary fix.
I investigated having jeans made to measure in India, over the Internet. In what must have been some kind of passing, subconscious wish to return to 2007, I bought a pair of 7 For All Mankinds at Loehmann's. By the time I got home, I hated them. I took a seam ripper to the 7s and sewed them back together; while this made them fit properly through the leg, it couldn't cure the uncomfortably low rise or the stupid decorative pocket stitching. (Why had I ever relaxed my policy on stupid decorative pocket stitching?) I started fingering 14 oz. weight denim in fabric shops. I made all my jeans in high school, but I didn't want to do so again: I was committed to the idea that an adult ought to be able to walk into a store that sells a common item, find that item in her size, pay, and leave. Then I remembered that I was a woman buying fashion, and behaving as though some kind of rational marketplace existed to meet my needs was patently idiotic. I thought seriously about casting my lower body in plaster, injecting the resulting mold with insulation foam, sticking the foam body double dummy on a pole, and draping The Perfect Jeans, the jeans that would — must! — fit me, lopsided hipbones and 1/2" shorter right leg and all. I bought plaster bandages on eBay and spent hours comparison shopping insulation foam. I had dreams where my enemies chased me. They were always wearing jeans.
Like so many desperate souls, I fell to online shopping. Animated by the fiction of pretty pictures and a generous return policy, I picked what I thought was my size during an Acne sale on Gilt Groupe. A week later, I was dismayed by the arrival of a pair of 90s mom jeans in the mail. However: They had that not-too-low rise I wanted, they had no "wash," and I noted a complete absence of stupid decorative pocket stitching. I tried them on and I took them off. I wore them outside twice — tried to 50s them up with a letterman sweater and a cuff, tried to 70s them out with tall boots and a poncho — but 90s mom jeans they stubbornly remained. I sulked. Then I got out my shears, my Husqvarna, and and my seam rippers. After some modifications, I wore them out-of-doors, such that by the end of the day my torso was encircled by two angry red lines — the stitching had rubbed me raw — and the coin pocket's rivet had left a bruise on my right hip. I threw them over a hanger and fumed. Then I bought the Rag & Bones. Stop-gap or no, I needed some bloody pants.
In a marketplace that provides more styles, more cuts and washes and rises, of denim pants for women than at any time before, why are there so few jeans worth wearing? Why does this consumer paradise give us, instead, "boyfriend" jeans and pre-perforated bleached monstrosities? Why are jeans always too tight or too loose or tight and loose in the incorrect proportions? Why camel toe? Why bedazzling? Why poorly thought-out pocket placement? Why Stupid Decorative Pocket Stitching? It is hard to design something invisible — both difficult in the technical sense, and also hard, I imagine, on the ego. Fashion designers, in my experience, no more want to think of themselves as tailors than architects self-identify as engineers. But the perfect jeans demand exactly that willingness to suppress one's aesthetic personality. Designing jeans requires perhaps more self-erasure than the average designer can deliver. They are just five pockets and a fly.
So, ultimately, what did I do? My re-sewn Acnes were almost right; was it possible I hadn't given them enough of a chance? I wore them, and again noted the bruising, the binding. It was like the hottest day of the year, and so I thought, Fuck it, I am going to run a bath and pull a Joan Collins. I splashed around, scalded my feet, and read this story about looming economic collapse in North Korea, a country where, incidentally, jeans are banned. When I got up, there was an indigo smear on the bottom of the enamel tub. But the wet fabric stretched in the right places and shrank in the right places — now, that rivet is out of the firing line and the waistband no longer hugs my midsection like a constrictor. And either I have become completely deranged by my nine month search, or the results are tolerable. Even pleasant. I am declaring a ceasefire. And on the safe side, I will avoid frequenting public laundromats with these babies. It's the bathtub and Woolite for us from now on.