For all its apparent issues with regards to celebrating the silencing of women (at least at face value), there is no denying that Shakespeare's The Taming of the Shrew is a succinct lesson in the easy way misunderstandings and stereotypical gender dynamics translate to humor. What other reason could explain its many famous updates, whether 10 Things I Hate About You or Kiss Me Kate? But Phyllida Lloyd's new, famously all-woman production of the play at the Public Theater's Shakespeare in the Park takes those tropes and pushes them to the point of absurdity.

Ana Gasteyer Satirizes the Girl Boss in 'American Auto'
The years of debating the meaning and merits of the play have been summed up by scholars much much smarter than I, so let's focus on Lloyd's take on this battle between men and women. In summation: the play centers around the sisters Katherina (Kate) and Bianca; Kate is beautiful and smart but a bitch, while Bianca is beautiful and a bit of a dud. As is the way, Bianca has many suitors, but their father will not allow her to marry until Kate is wed. To get around this, several of Bianca's wannabe beaus conspire with the older cad Petruchio, who is seeking wealth, to get him to marry Kate so they can get to Bianca. In the meantime, a young man named Lucentio disguises himself and works as Bianca's tutor in order to win her true love.
Lloyd, who directed Mamma Mia! on Broadway and has staged all-woman casts of Julius Caesar and Henry IV at St. Ann's Warehouse, seems to have married the camp of the former productions with the messaging of the latter in her Shrew; she's set the play in a literal Spaghetti Western. By that I mean the Italian influences are still firmly in place (Janet McTeer's Petruchio plays a real sloppy Latin lover type), but the set and costuming is all out west, with features like cowgirl outfits, ill-fitting men's suits, RVs and even a beauty pageant.
The rest of the casting is refreshingly creative. Judy Gold plays Bianca's suitor Gremio, who gets her own moment of modernization by acting essentially as an MRA doing stand-up, with shout-outs to "our future president" Hillary Clinton. Some of television's less famous actors are seen here too, as they often are in New York theater: The Good Wife's Cush Jumbo plays Kate, and Donna Lynne Champlin of Crazy Ex-Girlfriend is cast as Hortensio. At first, that they're all women playing men is jarringly clear—almost distracting; but as the play continues, you settle into the exact dynamics that arise, caught up in the double-meanings and interpretations laid upon every bit of dialogue.
G/O Media may get a commission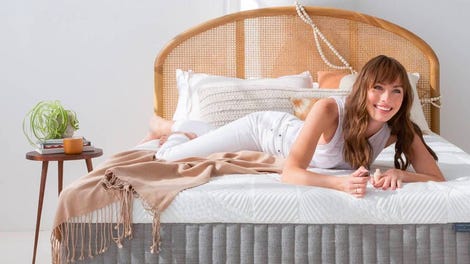 Sleep Sale
Sleep Sale - Brentwood Home
That is, until the end. The Taming of Shrew finishes with a heavily debated speech by Kate, who has, at this point, been "tamed" by Petruchio. "To wound thy lord, thy king, thy governor/It blots thy beauty as frosts do bite the meads/Confounds thy fame as whirlwinds shake fair buds/And in no sense is meet or amiable," she says, adding (famously) later, "I am ashamed that women are so simple/To offer war where they should kneel for peace/Or seek for rule, supremacy, and sway/Whey they are bound to serve, love, and obey." In Lloyd's interpretation, Kate is then crowned in a beauty pageant—before tearing off her sash in a fit. The production ends, fittingly, with a seeming nod to the most popular modern movie adaptation of Shrew, as the cast dances to Joan Jett's "Bad Reputation." Kate has shown her true colors, clad in a ripped t-shirt that reads, crudely, "SWINE."
With women in these roles, the tense moments of female suppression become more acute and the the entire conceit laughable, shifting it into the kind of moral tale some argue Shakespeare was making in the first place. "You don't know whose side he is coming down on and that's the beauty of the writing," Lloyd said in an interview of her take on Shakespeare's intention. No matter—that's most of the fun in his original, and even more so here.
And that it's all done at the benefit of the women involved, all the better. "One of the sad things we often encounter in the Park is the relative paucity of women's roles: in Shakespeare's theater, women couldn't appear on stage, and were played by boys or young men," the Public's Artistic Director Oskar Eustis wrote of the production. "The joy that has been unleashed in our building by having a company made up entirely of women has been palpable." For the audience, too.
---
Images by Joan Marcus/The Public Theater