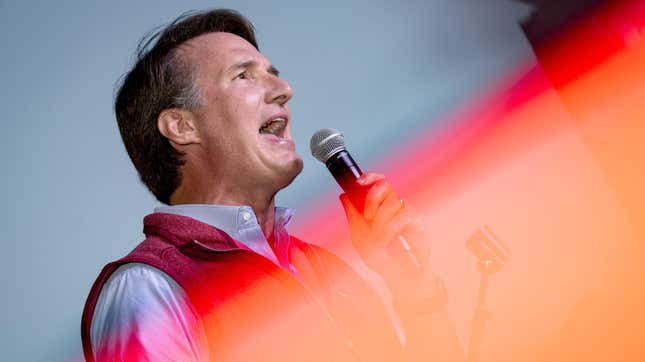 This month marked the opening of state legislative bodies across the country, many for the first time since the Supreme Court overturned Roe v. Wade. It seems state legislatures—after federal Republicans imploded on the national stage—see this as their moment.
Republican lawmakers across the country are tripping over themselves to introduce abortion bans and other anti-abortion measures that are more extreme than their neighbors'. Here is a non-exhaustive list of how state legislatures are impeding on abortion this winter and spring.
Virginia
Virginia is for lovers of abortion bans: A bill introduced on Wednesday seeks to ban abortion at 15 weeks and make it a felony to perform an abortion after the banned time. This is a pretty typical move by Republicans, mirroring a lot of the language proposed by Lindsey Graham's federal 15-week ban—so it's bad, but not novel.
What is novel is the proposal for a jury of your peers to decide if an abortion obtained during a medical emergency was the correct medical decision. The doctor could face legal penalties if the jury of untrained normies decides they were wrong.
Republicans in the Commonwealth also introduced bills that say a doctor should not perform an abortion if someone is seeking it on the basis of ethnicity or disability or sex, unless it's an emergency.
Another bill seeks to roll back state law that lets the Commonwealth pay for low-income patients' abortion as a result of incest or rape.
Montana
Montana wants to make it harder for Medicaid to pay for abortions for Montana's poorest residents. On Thursday, the Department of Public Health and Human Services proposed requiring prior authorization for Medicaid patients seeking abortions.
The Associated Press reported that doctors must disclose why an abortion is medically necessary "to protect the life of the mother or to prevent aggravation of an existing physical or psychological condition for which the patient is receiving treatment." The doctor must also disclose the patient's number of children and pregnancies. The agency found a court decision from 1995 (!) that said state Medicaid must cover "medically necessary" abortions, but not elective ones. (This perpetuates the idea of pregnancy as punishment, but that's a discussion for another day.)
The proposed rule also sidelines advanced-care practitioners like physician assistants or registered nurses from submitting this onerous paperwork.
Anyone who has dealt with health insurance knows what a fucking headache they are in the most benign health circumstances. Imagine having to deal with that nightmare when dealing with time-sensitive healthcare procedures in a Republican-controlled state??
Nebraska
While death penalty-loving former Gov. Pete Ricketts has taken his talents to the U.S. Senate, the Nebraska unicameral is working to keep up Ricketts's legacy of restricting abortion, too. The new proposal—expected to come to the floor this week—would ban abortion at six weeks. Currently, Nebraska allows abortion up to 20 weeks.
The new proposal would not criminalize patients or the doctors; instead, the good docs would lose their medical license. This would mean the state's licensing board would be in charge of enforcing the bill, according to bill text reviewed by the Nebraska Examiner.
In order to seem like people who care about women, the "draft contains exceptions for rape, incest and medical threats to a mother's life. It spells out protections for in vitro fertilization and procedures after miscarriages," per the Examiner.
Planned Parenthood of Nebraska Andi Curry Grubb put it plainly: "I think the bottom line, however they're trying to sugarcoat it, this is an abortion ban, plain and simple."
Utah
Utah state Rep. Brady Brammer (R-Duh) is hoping to institute a rule change that will allow the state to overlook the injunction keeping its near-total abortion ban from going into effect.
This is a little wonky: Brammer's rule seeks to change what attorneys must prove to get an injunction under Utah's Rules of Civil Procedure.
I'll let Utah radio station KSL explain in full:
The rule currently states that attorneys must prove a judge can issue an injunction when the case is likely to prevail at trial or that it "presents serious issues on the merits which should be the subject of further litigation."

The proposed text strikes the existing line that allows for the injunction to be granted on the "serious issues on the merits" and adds that injunctions could only be issued in Utah if there is a "substantial likelihood" that the case will win at trial.
Brammer wants this rule to apply retroactively, allowing the state's preliminary injunction in the abortion ban case to be reconsidered. Planned Parenthood of Utah would have to go back to court for this injunction originally instated in July 2022.
Tennessee
One Tennessee lawmaker understands how people are paying for abortions, and she doesn't like it! State Rep. Debra Moody (R-Duh) proposed legislation that would make it illegal for governments—city and municipalities—to give "money for employees seeking an abortion, including through health benefit plans or by funding out-of-state travel for the procedure," per The Tennesseean.
Abortion is completely illegal in the state, but it's not illegal to help someone fund an abortion. Davidson County proposed setting aside money for Nashville-area residents needing to leave the state for abortion care, but it wasn't passed.
This list is focused directly on abortion and abortion funding, but don't worry—there are even more ways for your state legislature to be ghoulish! Think of Virginia's attempt to backdoor fetal personhood into law by making a fetus a legal car passenger in HOV lanes. Texas Republicans are resisting a bill that would help teens get birth control. How about North Dakota trying to fine people $1,500 for not using pronouns that correspond to your DNA?
It's a nightmare everywhere. Time to fight back.