Most people prefer their news with a side of naked women, so it's a total surprise that the British paper The Sun has come under fire recently for it's section Page 3, where it regularly features topless ladies looking finnne.
David Dinsmore may have just started as editor of The Sun, but he's already encountering hate from people who'd rather not grapple with a little nipple every morning. According to The Guardian, Dinsmore went on the radio station LBC 97.3 (London's Biggest Conversation!) Wednesday morning to state for the record that he would not be getting rid of the section, despite outside pressure to do so, because it doesn't make good business sense:
"Page 3 stays. We did a survey last year and found that two thirds of our readers wanted to keep Page 3. What you find is people who are against Page 3 have never read the Sun and would never read the Sun."
What is Page 3, besides half-nudes? It isn't like the New York Post's Page Six, which is devoted to gossip and not entirely fixated on naked women, though the two might equal each other in terms of their popularity with some groups and how much they're reviled in others. Page 3 is a stand-alone site on the web, but in paper form features topless women amongst other more hard-hitting news, sort of like Playboy, but daily. The legacy of the page started with the soon-to-be single media magnate Rupert Murdoch, who began featuring women in bikinis in 1969. When he appointed editor Larry Lamb to run the paper only a year later, Lamb chose to feature topless women, which allegedly angered Murdoch, until he saw sales rise. Murdoch's had mixed opinions about the section ever since; in February, he tweeted that he might get rid of it.
G/O Media may get a commission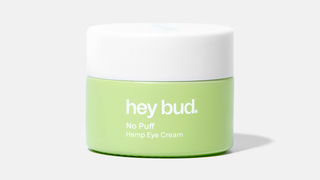 15% off
Hey Bud - No Puff Hemp Eye Cream
The group No More Page 3 ("Because Boobs Aren't News" ) started a change.org petition, which over 100,000 people have signed, asking Dinsmore's predecessor (who was moved to a new position last week) to get rid of the section:
"We are asking Dominic Mohan to drop the bare boobs from The Sun newspaper.

We are asking very nicely.

Please, Dominic.

No More Page 3.

George Alagiah doesn't say, 'And now let's look at Courtney, 21, from Warrington's bare breasts,' in the middle of the 6 O' Clock News, does he, Dominic?

Philip and Holly don't flash up pictures of Danni, 19, from Plymouth, in just her pants and a necklace, on This Morning, do they, Dominic?

No, they don't.

There would be an outcry.

And you shouldn't show the naked breasts of young women in your widely read 'family' newspaper either.

Consider this a long overdue outcry.

Dominic, stop showing topless pictures of young women in Britain's most widely read newspaper, stop conditioning your readers to view women as sex objects.

Enough is enough.

Thank you."
A few weeks ago, Caroline Lucas, a Green Member of Parliament in Britain, took to the Parliament floor in this t-shirt that reads "No More Page 3" to protest the publication. She said:
"There are few things more important than ensuring that every member of our community feels safe in their own home, their own workplace, their own community. Sadly, for far too many women and girls in the U.K., this is simply not the case, and there is strong evidence that media sexism is playing a significant contributory role."
Lucas went on to argue that "objectifying women has become so normalized in our society" and suggested that government should intervene in this publication. She was then told that her outfit did not fit with Parliamentary dress code and was asked to change. She responded:
"...it does strike me as an irony that this t-shirt is regarded as an inappropriate thing to be wearing in this house, whereas it is appropriate for this kind of newspaper to be available to buy in eight different outlets in the Palace of Westminster Estate."
For his part, Dinsmore doesn't think Page 3 is anything worse than what you'd find in a fashion magazine, or in the current exhibit of Japanese paintings at the British Museum entitled "Shunga: sex and humour in Japanese art, 1600-1900":
"As far as the exposure goes, it's on Page 3, it's not on the cover. I was flicking through a copy of this month's Vogue and there's Kate Moss topless. I suspect the editor of Vogue won't be questioned on whether topless pictures are on its pages. I think we've got to keep a sense of proportionality about this."
But as Dinsmore is probably well aware, there's a big difference between Vogue and Page 3. Vogue is – whether you like it or not – in the fashion/art category of publication, while The Sun is ostensibly a newspaper, though a tabloid-y one at that. It's also a newspaper that has attacked women who have criticized it on the ground that they were "jealous", "fat and ugly."
The Sun also has a much larger circulation than British Vogue, which hovers around 200,000; The Sun is over 2 million. The nudity they feature is also entirely different than Vogue's. One attempts to be art, the other attempts to sell sex, and a specific type at that. They live in entirely different contexts and that changes their meaning. Vogue is not real life, and while it has its own issues with selling unrealistic images of women, the women looking at it have a better chance of knowing that than they do looking at The Sun and feeling as though they're supposed to be sexy and available to men. The Sun is a publication that is supposed to be closer to reflecting real life, to be read by anyone and everyone. It's the market it's available to that is the problem, not necessarily the content alone.
The problem isn't the female nudity specifically, but the lack of awareness (or care) on the part of powerful people in the media to recognize their ability to shape something more long-lasting than a daily opinion on local gossip. And finally, while we all could definitely get less puritanical about naked people in general, this is not equal-opportunity nudity. There are no men on Page 3 and that's got nothing to do with business but entirely with what we're used to: looking at women in a very very specific way.
Image via Page3.com