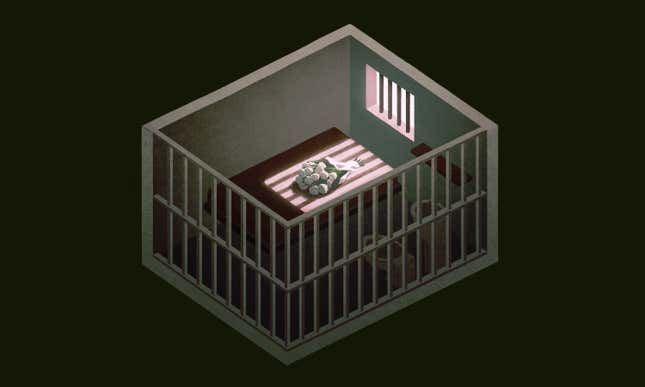 On a Saturday evening last January, Gynnya McMillen was staying at her mother's apartment complex in Shelbyville, a city of 15,000 in northern Kentucky. Gynnya, 16, lived in foster care but was allowed weekend visits with her mother, Michelle McMillen, since their long-strained relationship had begun to improve. That night, however, the two started to argue.
Around 1:30 a.m., Michelle called 911 to complain that her daughter had gotten physical and hit her. She told the operator that Gynnya "was gonna whup me," according to a recording of the call obtained by the Kentucky Center for Investigative Reporting. Gynnya protested, screaming in the background, "No, I didn't!" Police officers soon arrived at the apartment, arrested Gynnya for a domestic-violence related offense, and took her to Lincoln Village Juvenile Treatment and Detention Center, a troubled state-run facility 70 miles away.
Approximately 28 hours later, Gynnya was found dead in the cell where she'd been detained. Scrutiny of her death focused first on the way facility staff had restrained her—by forcing her to the ground with an "aikido style" martial arts move—after she'd refused to remove her sweatshirt to be searched. Medical examiners later determined that Gynnya had a previously undiagnosed heart condition and died of a cardiac arrhythmia. On August 31, her family sued current and former employees of Lincoln Village and the Kentucky Department of Juvenile Justice, alleging that Gynnya's death might have been prevented if detention center staff had checked on her every 15 minutes, as facility rules required.
Largely escaping scrutiny, however, were the circumstances that brought Gynnya to Lincoln Village in the first place. When the Violence Against Women Act was passed in 1994, its supporters—a broad coalition of advocacy groups and politicians on both sides of the aisle—envisioned the legislation as a way to protect females from intimate-partner assault. Before the law, the police had typically treated domestic disputes as a private matter, but VAWA and similar state statutes encouraged (and sometimes mandated) officers to make arrests.
But it's not just adults they end up arresting. Statutes generally apply to minors, too, and some laws require that police remove the primary aggressor regardless of their age. As a result, young people are often arrested and detained for fights stemming from trouble at home. Researchers say these laws and policing practices disproportionately affect girls, who account for a growing share of juveniles arrested for domestic offenses (38 percent) and simple assaults (37 percent).
"It's not to say that VAWA is a bad law; it's not, it's a very good law," said Francine Sherman, a clinical professor at Boston College Law School and the lead author of a report on the laws' unintended consequences, in an interview with Jezebel. "But officers need more discretion."
In absolute terms, youth arrest rates since the late '90s have been falling, but that's been happening more slowly for girls than boys. In their book Beyond Bad Girls, feminist criminologists Meda Chesney-Lind and Katherine Irwin argue that in the early 2000s, the surging share of girls in juvenile detention (for violent offenses, in particular) helped to ignite a moral panic over mean girls. A slew of news stories with headlines like "Girl Fight: Savagery in the Chicago Suburbs" and "Bad Girls Gone Wild" depicted aggressive, savage teens, a feminine corollary to the depraved young male "super-predators" who had inspired a national hysteria in the early 90s.
But Chesney-Lind, Irwin, and other researchers did not find evidence that girls were becoming more violent. Rather, the justice system was increasingly punishing them for relatively trivial offenses. One cause, ironically, may have been a well-intentioned reform of how "status offenses" are processed. (Status offenses are transgressions, like "incorrigibility" or running away, that are prohibited only for minors). Under the 1974 Juvenile Justice and Delinquency Prevention Act, judges were discouraged from throwing young people into detention for status offenses. As a result, criminologists say, some family members and police officers, perhaps driven by a "paternalistic" desire to protect young women, began relabeling behaviors that might once have been treated as minor infractions.
A study of nearly 1,000 girls' criminal files in California, for example, found that most cases stemmed from "nonserious, mutual combat, situations with parents." One girl reported that she was arrested for assault after hurling a Barbie at her mother. In another case, a girl threw a sheet of cookies.
"There is a reflexive incarceration of girls for behavior that would better be described as everyday adolescent rebellion than juvenile delinquency," Lindsay Rosenthal, senior program associate and gender justice fellow with the Vera Institute's Center on Youth Justice, told Jezebel.
Criminologists also suggest that the changes in policing practices with respect to domestic disputes are to blame. In one study, data from police records of 320 domestic violence calls in five Massachusetts jurisdictions operating under a pro-arrest statute found that less than half (47 percent) involved intimate partner violence. The arrest patterns revealed surprising age and gender biases: Female offenders were nearly 2.5 times more likely than males to be arrested, while adolescents were 4.5 times more likely than adults to face arrest.
So what explains this counterintuitive situation? There a few possible factors, criminologists say. When the police arrive at a home riven by family chaos, young people tend to be less composed than their parents, making them more susceptible to arrest. Youths also have fewer civil rights, and arresting them is less complicated than carting off the primary caregiver or sole breadwinner.
In these cases, judicial and parental paternalism may also be fueling girls' arrests, researchers say. Police and judges may be more inclined to take young women into custody for their own protection. Meanwhile, adults tend to impose more rules on daughters than sons, leading to greater conflict. "Girls are the ones who have curfews, who are yelled at for going out," said Chesney-Lind. "There's a double standard."
As domestic disputes entrap more girls in the criminal justice system, policy makers are beginning to take notice. The report by Boston College's Sherman, which was commissioned by the National Girls Initiative in collaboration with the federal Office of Juvenile Justice and Delinquency Prevention and the Office on Violence Against Women, sets forward broad principles—rejecting paternalism, balancing officer discretion with the need for rules, and recognizing the high rates of physical and sexual abuse among girls who are detained, among others. It also highlights a handful of promising legislative changes and alternatives to incarceration.
This June, for example, Washington State raised the age of mandatory arrest for in-home violence to 18. Teenagers arrested in Pima County, Arizona, are brought to a "domestic violence alternative center," where they're connected to counseling, healthcare, and other necessary services. And Hawaii as well as a handful of other jurisdictions operate "girls' courts" with all-female staff and gender-conscious health and counseling programs.
Kentucky, where Gynnya was arrested, doesn't share some of the most glaring policy features that contribute to girls being locked away. The state is one of 22 without blanket mandatory arrest policies for domestic violence (though practices vary by county, according to the Kentucky Coalition Against Domestic Violence). Shelbyville police and local court officials declined to comment on the specifics of Gynnya's case, but they said officers who take minors into custody on domestic violence charges are required to contact a court-designated worker trained in juvenile complaints. The lawsuit filed by Gynnya's family suggests that a court-designated worker was indeed contacted, as was a judge. Gynnya had been scheduled to attend a court hearing on Monday, January 11, the day after she died.
Sherman said those practices move in the "right direction," but even in states without strict mandatory arrest policies, officers often believe they're obligated to take someone into custody in domestic violence cases.
In one sense, the noteworthiness of Gynnya's involvement with the justice system is in its ordinariness. Her arrest stemmed from a domestic dispute, and like a disproportionate share of girls in detention, she was entangled in the foster care system, and she was black. (Black and Native American girls are 20 times more likely than whites to be formally petitioned by a court). But her experience after being taken into custody was uniquely troubling.
Shortly after her arrival around 6:07 a.m. on Sunday, Gynna was placed in isolation room 423, a cell with a heavy steel door and a narrow window that looked out onto the intake area. Surveillance footage cited in her family's wrongful death lawsuit shows that staff removed the mattress pad from her metal bed frame; Gynnya balled herself up in her sweatshirt to stay warm.
Between the early hours of Sunday and Monday at 9:55 am, when a guard assigned to help take Gynnya to court found her lifeless body, Lincoln Village staff falsified 64 bed checks, the lawsuit claims. In some cases, they didn't check on her at all, while in other cases they failed to recognize that she'd stopped breathing. (The Kentucky Department of Juvenile Justice, which did not respond to multiple phone and email requests for comment for this story, has fired at least three Lincoln Village employees on duty during Gynnya's stay at the facility. Lawyers representing Gynnya's family did not respond to requests for comment, and the family did not respond to an interview request via Facebook).
At around 6:30 a.m. on Monday, a worker carrying a tray of breakfast food knocked on the door, the suit states. When she didn't answer, he noted that Gynnya "declined breakfast—refused to acknowledge staff." Later, at 8:53, he opened her cell door and noted on the bed check form that she "declined snack." At both points, though, Gynnya was already dead.
Caroline Preston is a New York-based writer and editor.