Two summers ago, Allen Ivanov purchased a rifle and slapped a limited-edition Supreme sticker on the side. He would later tell police that he bought it to target shoot. But it was also, he admitted to detectives, a "symbol of power."

The suburb of Mukilteo where Ivanov grew up, on the Puget Sound in Washington, is a wealthy one. He lived with his parents and worked at both the Genius bar and at a startup as an engineer. At Cabela's, the big box store where Ivanov, then 19 years old, acquired his weapon in July 2016, a Ruger model called the AR-556 currently retails for $699.99. A week after making that purchase, Ivanov went back to buy an extra magazine, which now costs up to $19.99. "Did [I] mention how easy it was to purchase an assault rifle?" Ivanov wrote in the confession discovered by police after his arrest.
In the months leading up to his purchase, Ivanov had become increasingly agitated about his ex-girlfriend, Anna Bui, from whom he'd split earlier that year. Though he claimed he had been the one to initiate the breakup, he'd come to find her Snapchats "hurtful," according to police, and resented that she appeared to be getting on with her life.
The day after he bought the extra magazine, Ivanov drove his Subaru to a house party at an expansive, well-manicured home in his affluent suburb. Seeing Bui speaking to another guy at the party, according to court documents, he returned to the car, where he studied the gun's manual. Then Ivanov walked back to the party with his recent purchases and killed Bui, along with Jake Long and Jordan Ebner. He scaled a balcony and fired into the yard. One person was injured. The three victims were all 19 when they died.
G/O Media may get a commission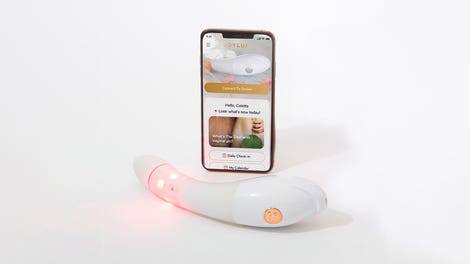 $50 Off
Joylux vFit Gold Device
Ivanov is currently serving out a life sentence in prison. This July, on the two-year anniversary of the shooting, Jake Long's mother announced she was filing a wrongful death suit against Ivanov and his parents, alleging, essentially, that they should have seen this coming.

The Protection of Lawful Commerce in Arms Act, signed into law in 2005, grants firearms dealers and manufacturers legal immunity from crimes committed with their products, including Ivanov's rifle. Families have gone bankrupt trying to sue anyway, forced to pay the legal fees accrued during litigation against gun-sellers. But the sale to Ivanov in July was one of the millions that year, enriching a vast network of people before it ever reached his hands.
Though you'll rarely hear their names, the story of his gun is a story about those people, too.

---
It would not have taken Ivanov long to purchase his gun at Cabela's: More than 90 percent of requests run through the National Instant Background Check Systems are completed in a matter of minutes. If the sale took half an hour, the person working the gun counter likely earned between $5.50 and $7 for their time.
In 2013, Cabela's experienced a 20 percent increase in firearms sales, a number it expected to grow thanks to "sophisticated" customer tracking and analytics programs. By 2016, hunting equipment made up almost half of sales in its 60-odd specialty outdoors stores, destination shopping centers packed with taxidermied animals and cafes serving deli sandwiches made of elk and wild boar.

The Cabela family appeared on Forbes' annual list of richest families in 2014, as the company benefited from a "massive demand for firearms" and shares in the publicly traded company rose. The family, which included husband-and-wife team Dick and Mary Cabela, was valued at $1.1 billion in 2014, the same year Dick died and his brother Jim took his place. In 2015, Cabela's successfully barred an activist shareholder from limiting its sale of high-capacity firearms, arguing that the proposal interfered with "ordinary business matters."
Mary and Dick Cabela built an $8 million, 35,000-square foot home for themselves near Cabela's headquarters in Sidney, Nebraska, a mansion styled as a museum with separate rooms for their collections of African masks, an "Egyptian Room," and a "Lion Bar" where a taxidermied predator is frozen forever licking the counter. In the 15,000-square foot trophy room, one could press a button next to an animal and hear the couple narrating a tale of its hunt. It was in this trophy room that Dick Cabela granted a rare interview in 2014 to National Rifle Association executive vice president Wayne LaPierre, a longtime friend. "We're losing our youth, big time," Cabela told LaPierre, lamenting the younger generation's lack of interest in shooting sports. "Especially in the inner cities," he added.

Thomas Milner, the CEO of Cabela's until 2018, is also well-acquainted with LaPierre: he owns a jaunty custom yellow-gold blazer, a gift from the NRA when he was inducted into the Golden Ring of Freedom, a top-tier membership level for individuals and companies that donate more than $1 million to the group. Prior to his job as a big-box retail executive, he worked for the Remington Arms Company for 15 years, where he was president and a member of the gun maker's public policy committee. As an executive at Remington and its parent company, the Freedom Group, Milner lobbied aggressively. "We don't accept the politically popular notion that guns are the source of crime problems," he announced when he launched the Remington Arms Political Action Committee in the mid-'90s. In 2016, he received $392,376 in cash bonuses from Cabela's, in addition to his salary of nearly $1.5 million.
A year after Ivanov bought his AR, Cabela's sold its business to rival sporting company Bass Pro Shops. The loss of thousands of jobs rendered Sidney, Nebraska, something of a ghost town, and the economy there has yet to recover. (All of the newly emptied houses mean real estate has become quite cheap, according to local reports.) Milner and 14 other Cabela's executives took in a combined $859.4 million from the deal with Bass Pro Shops, including a $689.1 million parcel to Jim Cabela, who accepted awards from the NRA in 2008 and 2014 but reportedly spent little time in the office in the time leading up to the sale. (Milner and Cabela's did not respond to a request for comment.) Meanwhile, Cabela's employees at the company's former headquarters were asked to leave quietly with a bonus or gamble on whether or not they would have a job after the takeover. Bass Pro's founder asked Cabela's executives to contribute some of their golden parachutes to a severance fund; the response was reportedly minimal.
The acquisition of Cabela's by the privately held Bass Pro was financed in large part by Goldman Sachs' private equity arm, which lent $1.8 billion in equity, the largest investment by the firm since the financial crisis of 2008. Additional funding was provided by Bank of America, Merrill Lynch, and Wells Fargo. By acquiring its rival and cornering the market, Bass Pro doubled its revenue. The company's press-shy founder, John Morris, considers himself a folksy outdoorsman and champion of Midwestern values. He has a net worth of around $6 billion, with more than 100 megastores, a 460-acre resort in the Ozark Mountains with three golf courses—one designed by Arnold Palmer—and a boating company that built a custom fishing rig for George W. Bush. Morris donates prodigiously to wildlife preservation funds: He's established three "immersive conservation attractions" and recently gifted the Florida Audubon Society a research vessel.
His flagship store in Springfield, Missouri, is also home to the NRA National Sporting Arms Museum, where visitors can pay homage to the gun toted by John Wayne in True Grit. A 2010 report from the Public Accountability Initiative accused his stores of winning $567.5 million in taxpayer subsidies across the country, at an average of $29 million per project, without delivering on promised economic gains for host cities. The report, which Bass Pro characterized as a "gross distortion," alleged the stores had promised to anchor a number of large-scale developments, turning them into destination shopping attractions, and had failed to make good on promised tax revenues and jobs.
Recently, Morris had plans to open a fishing resort in central Florida ("We also feel that the strength of our company and its marketing horse power make us the very best marketing partner to promote this great fishing destination," Morris wrote the Okeechobee County Board of County Commissioners). According to the luxury real estate company Hunter Reed, the Bass Pro Shops founder owns a vacation estate in the Florida Keys, in the same closed seaside compound enjoyed by Scott Walker and Dick Cheney. After the Cabela's sale, Jim and Mary Cabela retained 25 percent ownership in the company, which has been among the only big-box outdoor retailer to decline to limit sales of assault weapons or impose age limits on guns. (Cabela's and Bass Pro did not respond to request for comment on their firearms policies.)
This year Thomas Milner, the former CEO, moved into an advisory role at Tracking Point, a manufacturer of "no-look" high-tech optical attachments, which allow hunters and soldiers to shoot without aiming, or live stream their hunts.

Thanks in large part to sales like the one to Ivanov, everyone remains filthy rich.


---
Ruger sells domestically through a network of 18 major distributors. They, in turn, provide the firearms to sellers and sporting goods stores. Sales to these middle-men make up over 90 percent of Ruger's domestic business. Davidson's, a Prescott, Arizona company, and Lipsey's, headquartered in Louisiana, together accounted for almost 40 percent of that 2016 wholesale market.
Once more diversified operations, both pivoted in the '80s to focus exclusively on firearms. As Lipsey's current CEO said, the margins are simply much higher for a $600 gun than a $10 fishing rod, and moving to exclusive gun sales effectively saved a company headed for ruin. Lipsey's now enjoys revenues over $100 million a year. Davidson's, for its part, expanded in 2015, as it experienced a "significant growth in revenue. It runs a customer-facing website, "Gallery of Guns," as well as its own TV show on the Home Shopping Channel. Bryan Tucker, Davidson's CEO, is also a member of the NRA's Golden Ring of Freedom club. He donates to the National Shooting Sports Foundation PAC, which lobbies against gun control and is headed by former Ruger executive Steve Sanetti.

At a shareholder meeting in 2016, Sturm Ruger's then-CEO Michael Fifer described his company as a "good citizen" that employed more than 2,000 people in three American gun factories. "We are basically an industrial manufacturer of great consumer products," he said, "we pour metal. We cut wood." That year his company reported $87.5 million in income, an increase of 40 percent since 2015. In the year that Ivanov bought his gun, Ruger's top five executives got a 67 percent raise. Fifer's personal compensation package was $4.3 million.

According to self-reporting salary websites like Glassdoor, the people who actually pour the metal and cut the wood make about $14.00 an hour, though bonuses are now doled out based on profits for the year. (Ruger did not respond when asked to comment on its pay scales.) When Fifer took over Ruger a decade ago and reshaped the company, he had little experience in gun sales, but immediately streamlined the operation, laying off workers and moving employees from salaried positions to hourly wages, as well as requiring contributions to benefit plans for the first time.
He bowed out in mid-2017, retiring at age 60 on an extremely profitable note, but not before telling shareholders that the "volume level" of gun politics were a major factor in increasing sales. In a 2016 call, he specifically cited the PLAA, the law shielding gun-makers from liability, warning that a "certain politician" might put companies like his back on the hook. (When gun sales dipped, largely credited to the fact that the "certain politician" didn't win, Ruger laid off 700. Chris Killjoy, the current CEO, made an estimated $2,721,040.)

Ruger is one of two major publicly traded gun manufacturers, and its sales cumulatively benefit a wild array of mutual funds and private investors. Some of those represented on the shareholder call may have been from the London Company of Virginia, which at the time held assets worth 10.6 billion, including long-term stakes in Cabela's as well as holdings in ammunition, missiles, and tobacco. Two of the world's largest asset managers, BlackRock and Vanguard, are top shareholders, as well as mutual fund giant Capitol Group. BlackRock's executive officer, Larry Fink, has a base salary of $900,000 a year. (In 2017, he made $27.9 million.) Vanguard, which has traditionally used its power as a shareholder to moderate executive pay, has managed to keep its own executives' compensation under wraps.
The New York state and Florida state teachers' pension funds have stakes in Ruger, as do the funds for Washington state employees. Recently, facing criticism, a spokesman for Florida's State Board of Administration said its first priority was growing its fund, inferring that its investment was simply too valuable to drop. "These passive portfolios track a broad market index," a New York State Teachers' Retirement System spokesperson said in February, and no divestment decision had been made, though the fund dropped some of its shares in August of 2018. Since the 2008 financial crisis—catalyzed by such equity giants as recent Cabela's investor Goldman Sachs—funds have ostensibly been under more pressure to see good returns.
The Vanguard group's official position is that it simply does not believe mutual funds to be an optimal agent for social change.
---
Recently, the same group of activist investors that once went after Cabela's, a group of Catholic nuns, successfully pressured Ruger at a shareholder meeting to prepare a report on gun safety. Blackrock executive Larry Fink, who wrote to shareholders this year about "social responsibility," and has recently begun offering clients an investment package devoid of such investments as Ruger, lent vocal support.
The resolution requires Sturm to prepare documentation related to the financial and reputational risks associated with their firearm-manufacturing business. In a statement provided to the NRA publication The American Rifleman, Ruger's "formal," unsigned response said it was "obligated" to comply with a "shareholders activist resolution," but that "the proposal requires Ruger to prepare a report. That's it. A Report."
"We are staunch supporters of the Second Amendment not because we make firearms, but because we cherish the rights conferred by it," Killjoy, who received a 2017 bonus of $213,038, said.
The wrongful death suit against Allen Ivanov's adopted parents is ongoing; it alleges that they allowed their 19-year-old son to live at home, and treated him like a child, because they were aware of his developmental issues. It highlights a letter written by Ivanov's attorney, in which he is described as "an emotionally immature man, not more than a boy, who does not understand and does not yet know how to process and deal with the tensions and emotions of a deep personal relationship."
Jake Long's parents are seeking an unspecified dollar amount, which would including attorney and funeral fees. Cabela's, in the meantime, is in the midst of its End of Summer Sale. An AR-556 remains listed at its full price.