Few women would have worn masks like the otherwise historically accurate one sported by Wonder Woman villain Doctor Poison. However, many of them were created by a woman—an American sculptor named Anna Coleman Ladd.

Of all the horrors wrought by World War I, devastating facial injuries were among the most traumatic, for the culture broadly but especially for the sufferers. Newly developed machine guns sprayed bullets at soldiers in trenches, perfectly positioned to be struck in the face. Allison Meier explains in a Hyperallergic article from 2016:
Medicine had improved enough so soldiers could survive previously fatal injuries, yet those wounds were freshly horrific with machine guns and trench warfare that often left the delicate facial tissue exposed. Noses were reduced to holes, jaws broken beyond repair, eyes blinded, and whole physiognomies blurred by ripped flesh. As Harold Gillies, a doctor who treated thousands of facial injuries, said of his ward: "Only the blind keep their spirits up."
Plastic surgery was incredibly primitive—in fact, the conflict helped create the field as a medical specialty—and there was only so much they could do. So they turned to masks, many of them made by Ladd and her Studio for Portrait Masks in Paris, Caroline Alexander explained in Smithsonian magazine in 2007:
The mask itself would be fashioned of galvanized copper one thirty-second of an inch thick—or as a lady visitor to Ladd's studio remarked, "the thinness of a visiting card." Depending upon whether it covered the entire face, or as was often the case, only the upper or lower half, the mask weighed between four and nine ounces and was generally held on by spectacles. The greatest artistic challenge lay in painting the metallic surface the color of skin. After experiments with oil paint, which chipped, Ladd began using a hard enamel that was washable and had a dull, flesh-like finish. She painted the mask while the man himself was wearing it, so as to match as closely as possible his own coloring.
G/O Media may get a commission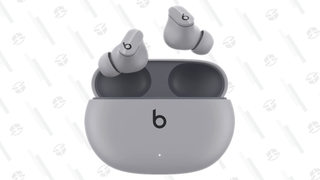 Meier points to David Lubin's Grand Illusions: American Art and the First World War; he says that the studio existed for 11 months and produced 97 life masks. "For all of that, the number seemed woefully inadequate. Industrialized modern warfare was producing deformities on a scale well beyond the recuperative means of nineteenth-century-style artisanship," he wrote. But they made a tremendous difference to the men who did get them; Ladd wrote, "The letters of gratitude from the soldiers and their families hurt, they are so grateful."
"The fate of similarly wounded Russians and Germans is more obscure, although in postwar Germany, artists used paintings and photographs of the facially mutilated with devastating effect in antiwar statements," Alexander notes.
Read more about Ladd's work at Hyperallergic and Smithsonian.