On Sunday, the US Army Corps of Engineers issued a statement announcing it would deny a key permit for the Dakota Access Pipeline. The announcement grants the Standing Rock Sioux a temporary stay in their fight against the pipeline's route, and that stay has a strong chance of becoming a permanent victory.

The Corps' decision represents a victory for the thousands of water protectors that have endured months of grueling conditions—suffering through below-freezing temperatures, nights interrupted by the sounds of planes roaring overhead, being shot by water cannons and rubber bullets—with inspiring determination and radical generosity.
To understand these sacrifices, non-Natives must recognize that the Standing Rock protests have always been about much more than water.
In September 2016, Energy Transfer Partners—the company behind the Pipeline designed to transport oil between North Dakota and Illinois—said the Standing Rock Sioux of North and South Dakota had not proved the Pipeline threatened the Standing Rock Sioux's sacred sites. The Standing Rock Sioux responded by filing evidence such as maps drawn by a cultural expert following an archeological survey. Not 24 hours later, Energy Transfer Partners 
began destroying those burial grounds.
As a multiracial Native American woman, I felt this violation viscerally. When I was a little girl, some white teenagers went to the graveyard at St. Clair Missionary Baptist Church in Shepherd, Texas, hardly an hour from my Houston home, and—driven by a mixture of boredom and bigotry—destroyed the historic graves of the African Americans and Native Americans buried there, including those belonging to Sallie, my Cherokee ancestress. I learned then that settlers could do whatever they wanted to me and mine. I can no longer kneel at Sallie's burial place. I can only stand under the shade of the cemetery's pecan trees and pines and wonder where, exactly, she rests. She is lost to me. And now, the ancestors of the Standing Rock Sioux are lost, too. We Indians are sick of losing our relatives. That's what the protests were about.
G/O Media may get a commission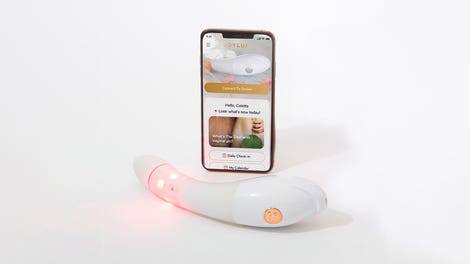 $50 Off
Joylux vFit Gold Device
A few years ago, I traveled to Michigan to attend a Native American academic conference and to do fancy shawl dance at a powwow. At one point during the weekend, Ojibwa tribal elders invited a group of us postgraduates into a longhouse, a spiritual space, where they blessed us in a ceremony. Few people are pessimistic enough to guess accurately what percentage of Native Americans have college degrees. It's eleven. Each of us had been the beneficiary of generations of prayers, and the prayers from the tribal elders hallowed us anew. But we were quickly distracted from the joy and hope of the moment—one of the elders asked us to enter the longhouse next door and pray with the family inside. The son of the family had just died of an overdose.
The legacy of colonialism is everywhere in Indian country. It is present in corporate and government invasions of our territory, as well as in the despair of individuals driven to addiction by generation after generation of injustices. Native Americans often say all life is connected in a web. But I believe so, too, is all death. And until people understand that, they cannot understand that the Dakota Access Pipeline protests represent a struggle that began not in spring 2016 but in fall 1492.
About a century and a half ago, my great-great-great-great-grandfather John Carr, a Texan plantation owner, was on a hunting trip in North Carolina when he decided instead of a deer, he'd bring home a woman. He kidnapped Sallie, forcing her into concubinage.
When we first met, my Cherokee language teacher looked at me and said, "Your name in our language is Sa-li"—the Cherokee version of my ancestress's name. My being given Sallie's moniker reminded me that my ascendant is ever contemporary. And the Dakota Access Pipeline put the women of the Standing Rock Sioux in danger of sharing her fate.
That was because it was likely that the Dakota Access Pipeline, if constructed as planned, would have brought to the Standing Rock Sioux the "man camps" of oil workers that have metastasized across Indian country. John and Sallie's analogues remain among us; man camps are home to decent workers but are also plagued with men who rape and traffic Native American women and girls. Tribal nations have almost no authority to prosecute felonies committed by non-Natives on tribal lands. Nor is this authority granted to states. Federal courts do have jurisdiction over such crimes, but they usually fail to act.
What all this means is it's extremely difficult to prosecute non-Natives who rape Native Americans. One in three Native American women is raped in her lifetime. Nearly 90 percent of those rapists are non-Native.
That's what this protest was about.
We American Indians recognize that the typical non-Native would hardly be willing to drape us in smallpox-infested blankets or shoot us down à la Wounded Knee. But we are also aware that settlers frequently find our humanity inconvenient, awkward, annoying, a drag. We won't shut up about Columbus Day. We leave obnoxious comments on people's Instagram accounts asking them not to misuse our sacred regalia as hipster headdresses. We ruin Halloween with our politically correct whining about Poca-hottie costumes. (That one in three statistic reflects the hypersexualization of Native American women.) Folks try to chill and watch a football game, and we have nothing better to do than protest the name of the Redskins. And now, here we are in the Dakotas getting in the way of jobs and energy independence and profits. We are invisible to others except for when we're standing in the way of something they want, and at those times, it's almost like we can hear settlers thinking to themselves, "Why can't they just go away?" or even, "How are they here bothering us? Aren't they supposed to have vanished already?"
In this context, simply existing is revolutionary. The Standing Rock Sioux not obligingly consenting to die from toxic water or from the violence of man camps is radical.
The rallying cry of the Standing Rock Sioux was "Mni Wiconi"—"Water is life." Yet the Standing Rock Sioux knew this was not news to the forces behind the Pipeline, Energy Transfer Partners and the U.S. Army Corps of Engineers. Those entities knew water is life because the Army Corps rejected an earlier proposal that would have located the pipeline near predominantly white Bismarck. They feared placing the pipeline close to a white community—ten miles away—risked contaminating its water. So they decided they would move it… a half a mile from the Standing Rock Sioux reservation.
Energy Transfer Partners and the U.S. Army Corps of Engineers knew water is life, but so did the state of Michigan when it decided the people of Flint ought to drink corrosive water conveyed through lead pipes, so does the World Bank as it funds water grabs in Africa. Saying "water is life" only makes a difference when the entity to whom you are saying it cares whether or not you live; it has no effect on people who regard your being alive as an impediment to their pleasures or profits. When your life is seen as an anathema and an anachronism, simply to live is to protest. And we intend to live.
Shannon Prince is a JD/PhD candidate at Yale Law School and Harvard University Graduate School of Arts and Sciences. She is an officer of the Yale Native American Law Students Association and an aspiring author.