Everyone's highly sensitive nostalgia nerve fired up when rumors of a Spice Girls reunion tour started circulating.
Ana Gasteyer Satirizes the Girl Boss in 'American Auto'
Yes, the thought of seeing Scary, Sporty, Baby, Ginger, and Posh bopping around on stage while they lip sync their classic odes to female friendship might make you temporarily want to break out the butterfly clips. But perhaps we should simply relegate them to memory.
At this point, reportedly neither Victoria Beckham nor Melanie Chisholm wish to participate in anything of the kind. Life and Style Magazine allege that the word "tryouts" are being whispered:
The Spice Girls' 20th reunion tour hit a bit of a snag when Victoria Beckham (Posh Spice) and Melanie Chisholm (Sporty Spice) both decided not to participate — but sources tell Life & Style that rather than cancel the tour, the rest of the group decided to find two ladies to replace them.

"The girls are going to be making a formal announcement about tryouts for their spots in the next few weeks," the source says. "Posh and Sporty can be replaced."

"It wasn't a surprise that Victoria would decline the tour, but the girls really hit the roof when Mel C ditched too," a source reveals.
G/O Media may get a commission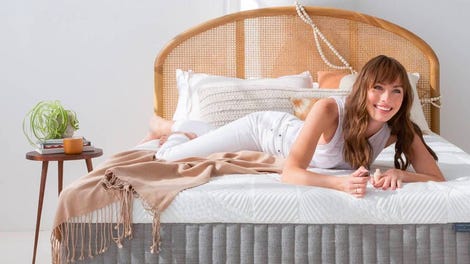 Sleep Sale
Sleep Sale - Brentwood Home
Me-ow. You know, Melanie C really is sporty. She just finished a triathlon. Her plate is full.
Also, while it's possible that they could find women in their forties who can dance and sing with as much vivacity and energy, there are probably far more women in their early twenties willing to sign on as spicy placeholders until they can jump to something else. A mixed age group might be fine, but what fans want to see is probably the women they grew up with, who once did this at the Olympics:
Do you really want to see this Frankenstein version of the band you knew two songs to? I'll tell you what I want, what I really really want: everyone leave the Spice Girls alone.
Images via Getty.