Spain's goalkeeper failed to block a shot from Switzerland while his distracting girlfriend Sara Carbonero was nearby. Elizabeth Minett broke England goalkeeper Robert Green's heart not long before he let a U.S. goal through. Is there anything chicks can't ruin?
Carbonero, named FHM's Sexiest Sports Reporter In The World, was filming behind Spain's goal when her beau, Iker Casillas, and his teammates let through Switzerland's winning goal. According to the Guardian,
Many fans have been angered by her presence in South Africa, fearing it could prove a distraction for the goalkeeper and prove a destabilising influence within the squad. Carbonero was asked by her own TV station, Telecinco, about her influence. "Can I destabilise the team?" she said. "I think it is nonsense."
What's worse than screwing up your country's World Cup game? Maybe being called on it publicly by your girlfriend afterwards, as Carbonero asked Casillas how he managed to "muck that up," as it's been translated.
Meanwhile, English goalie Robert Green earned the ire of all of England when the ball slipped between his hands, allowing the U.S. goal that tied the game. Luckily, the press has the answer. Per the Daily Mail,
Green looked distraught after the match, which ended 1-1.
Some onlookers suggested his red eyes showed he had been holding back tears.
G/O Media may get a commission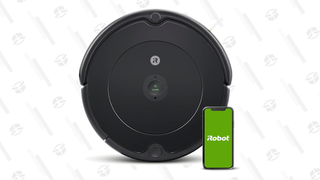 35% Off Black Friday Deal
iRobot Roomba 694 Robot Vacuum
First Green weeps. And then England follows. Who is to blame? "Lingerie model" Elizabeth Minett, Green's ex-girlfriend (taunting him here). The two broke up a few months ago, although shockingly, Green didn't mention the bitch who'd stomped on his heart in his public apology to his country.
And they say we're the weaker sex. Somehow, all of this theorizing about poor fragile men, unable to concentrate in the face of female temptations lost and found, manages to be insulting to both men and women.
Robert Green Split With Model Elizabeth Minett Before World Cup [Mirror]
Spain Points Finger Of Blame At Sara Carbonero [Guardian]